Thinking about where to go on your next holiday? We've got you covered! We've gone through the "Where to Go in 2023" hit lists published by National Geographic, Condé Nast Traveler, Travel + Leisure, and more, and added a sprinkle of our own expertise into the mix, to create the ultimate guide on where to travel in 2023. Here are our top 2023 destinations!
1. CAMBODIA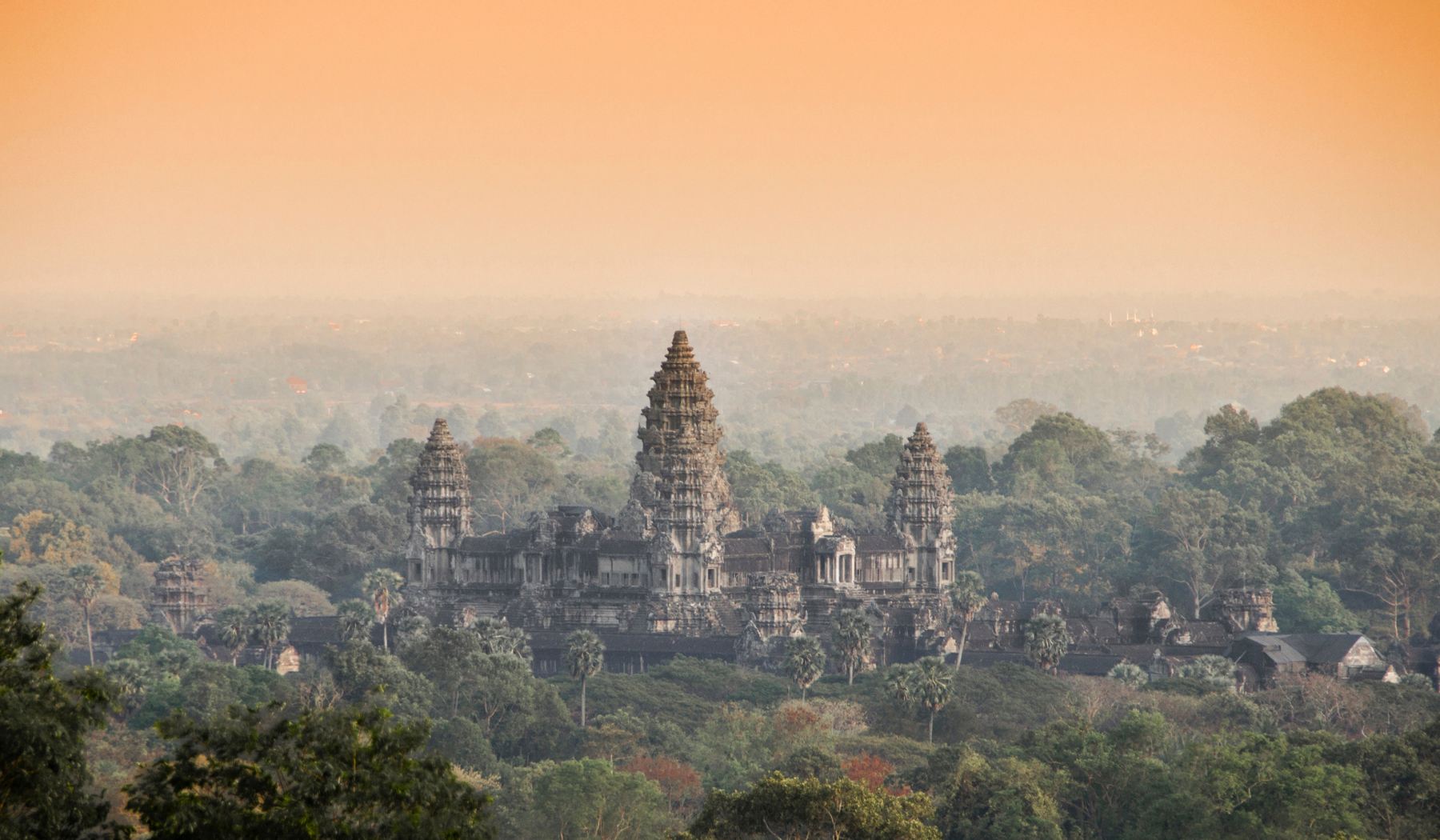 A view of Angkor Wat, Cambodia. Source: Canva
Cambodia is top of our list for places to go in 2023. Highlights such as Angkor Wat are still extremely quiet due to much fewer tourists visiting from places like China, where COVID-19 lockdowns remain in place. In fact, while pre-pandemic crowds were at more than 2 million people, in 2022 only around 200,000 people made their way to the temple complex. Cambodia also removed all restrictions on travel just a couple of months ago, which makes the country very receptive to visitors again. Forbes put Siem Reap on its list of must-see destinations of 2023, noting that beyond the Angkor Wat temple complex, the city is full of fantastic food and drink options, spas, shopping, and hip accommodations. When we travel there, we top off the bucket list experience with a balloon ride over the city at sunset! And while most people are aware of Angkor Wat, there's so much more to Cambodia, such as its luscious beaches off of Sihanoukville, including paradisiacal Koh Rong. It also boasts spectacular wild landscapes, such as Phnom, Botum Sakor, and Ream national parks, or places like the floating village Kampong Phluk.
2. EGYPT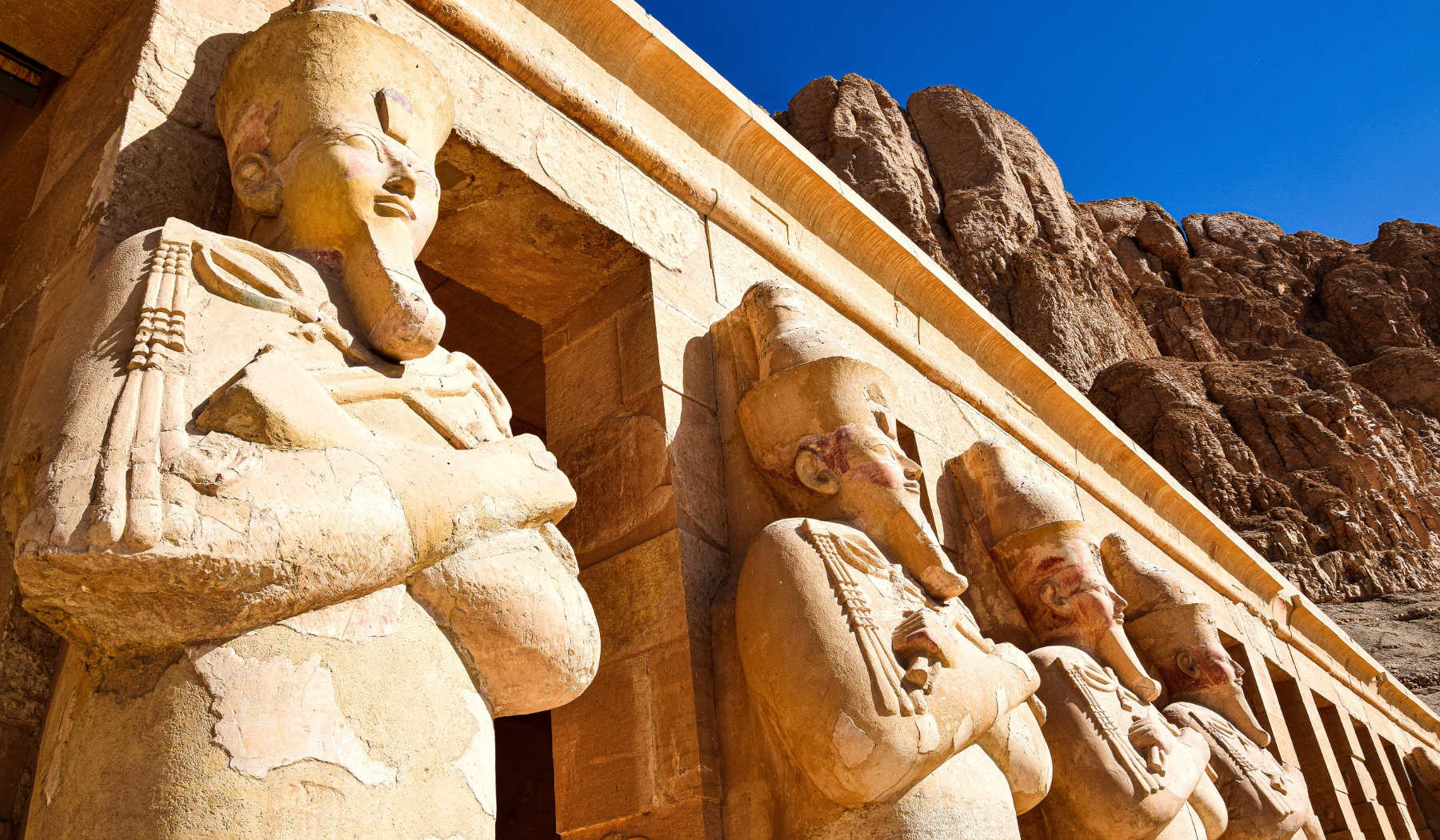 Discovering Egypt's beauties and history. Source: Canva
There's a lot of buzz about visiting Egypt this year as the Grand Egyptian Museum is finally set to open. This will be the new home of King Tut, whose tomb was discovered 100 years ago. The million square feet of space will make this the world's largest archaeological museum, which will include objects from Tutankhamun's tomb as well as other artifacts, a 40-foot statue of Ramses II, and outdoor gardens right in the midst of the desert and across from the Pyramids of Giza. Along with the new museum, Condé Nast Traveler recommends checking out Green River Park, a 22-mile space designed to look like the Nile. And if you're interested in the Nile, Travel + Leisure points out that 2023 is a great year to discover it, with several new ships sailing down the famous river. If you needed more convincing, National Geographic also recommends heading to Egypt this year for the best in culture, whether it's exploring the Grand Egyptian Museum or Luxor's Avenue of the Sphinxes. We say yes to all these things, but also suggest getting to know contemporary Egypt in its colourful bazaars and local villages, or by exploring old Cairo at night.
3. SRI LANKA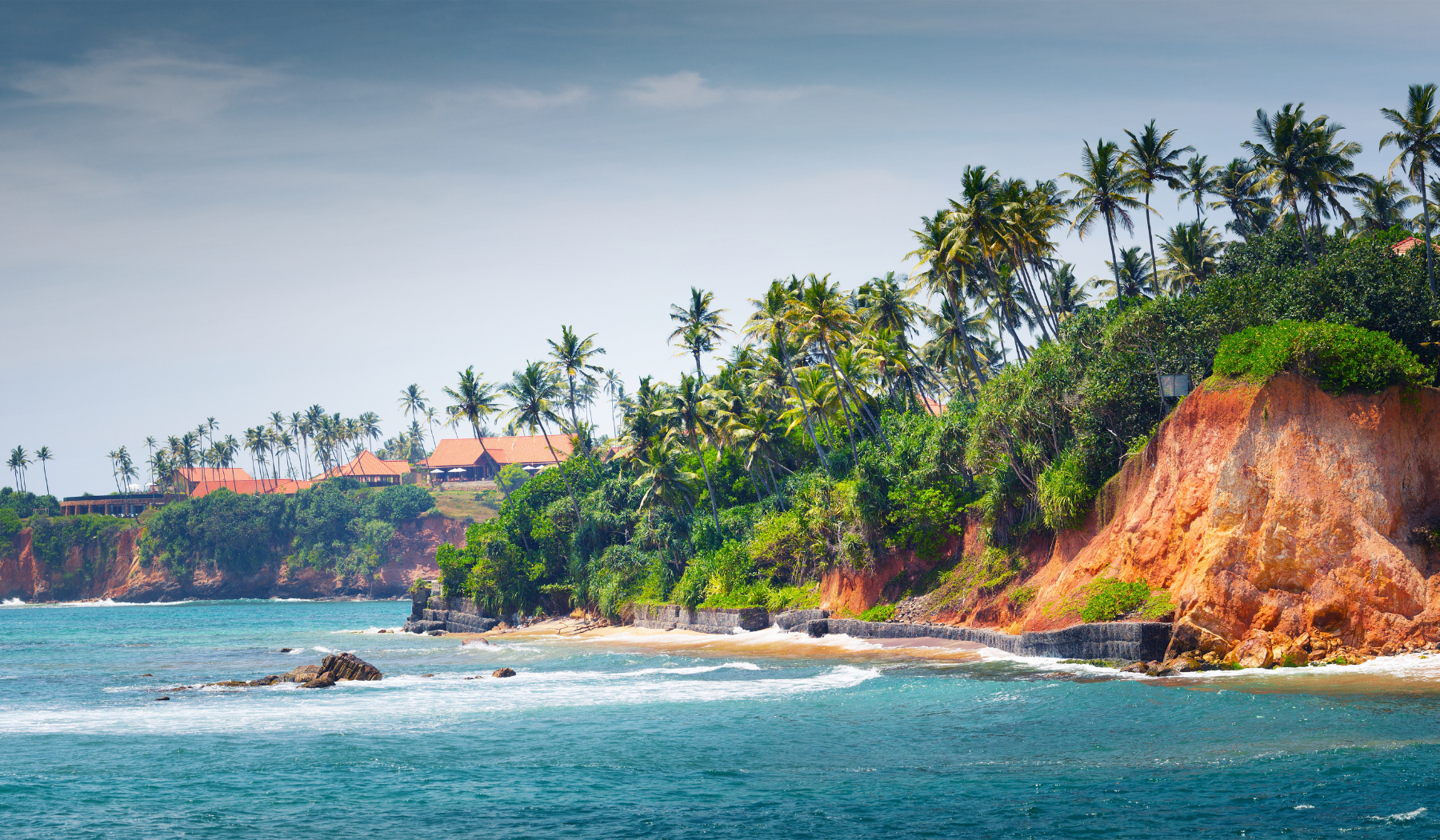 Coast with palm trees near the town of Weligama, Sri Lanka. Source: Canva
Hot off the press: an insider tip for where to go in 2023 is Sri Lanka! Sri Lanka saw some local protests in 2022 related to currency issues and fuel shortages, which stopped the usual flow of tourism. The situation has calmed significantly, but the tourists haven't returned yet, so 2023 could be a great time to explore this versatile island nation. Prices are currently competitive, and you'll be able to have the beach almost to yourself, or wander around temples at your leisure without many other tourists. Sri Lanka will also celebrate 75 years of independence in February, with parties happening throughout the country. Expect dancing, parades and performances. It won't be long before others flock back to Sri Lanka, so we highly recommend going there in the coming year to take advantage of this window when you can have the tropical island almost all to yourself.
4. PERU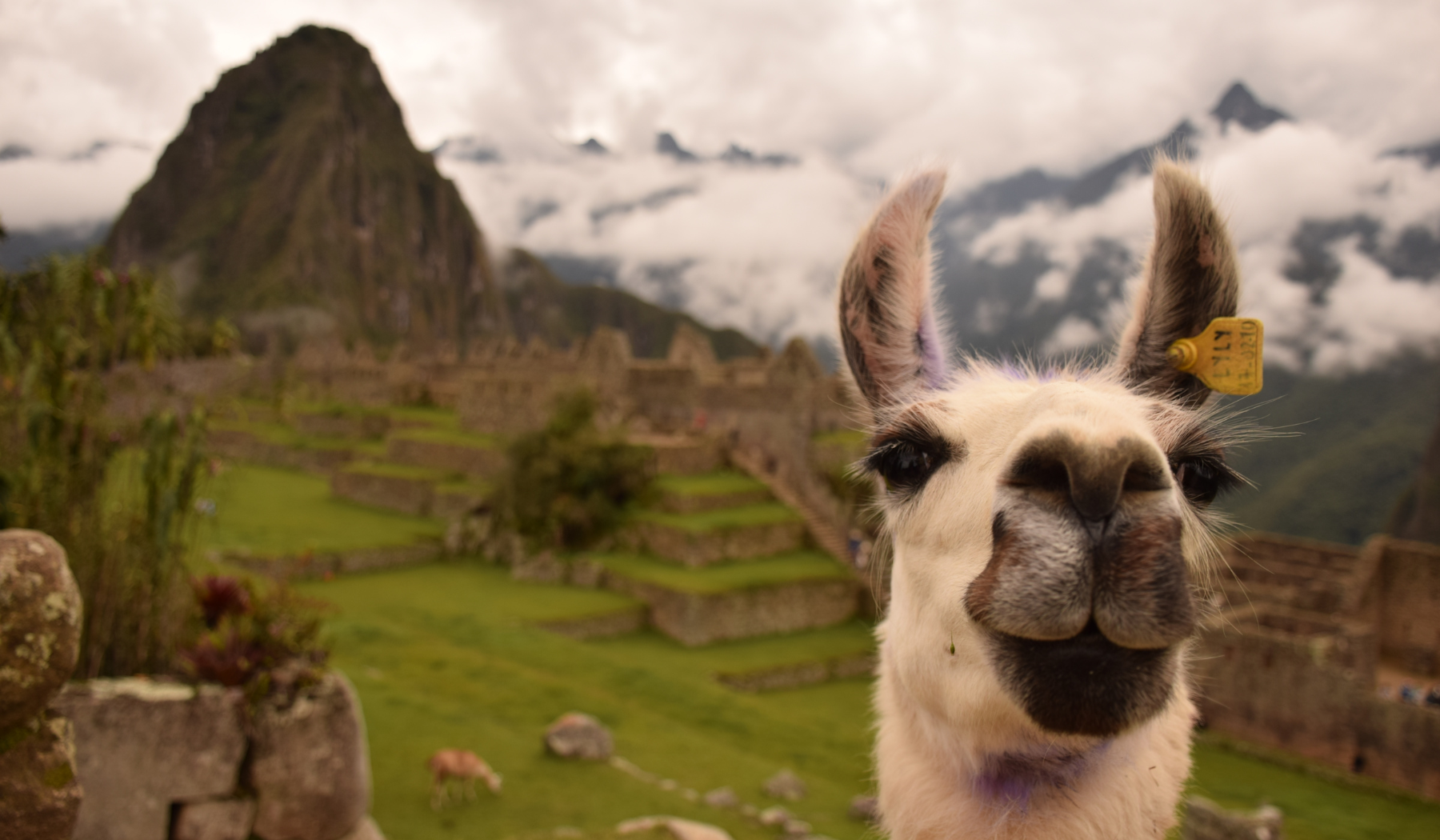 Machu Picchu and Alpacas: highlights of Peru! Source: Canva
Turns out we were right to identify Peru as a hotspot for 2023 when we launched our new trip to the Andes! Lonely Planet put Peru on its list of the best of 2023, particularly due to its food. With fresh seafood, cool pisco sours, and innumerable cevicherias, Lima is a foodie's paradise. Condé Nast Traveler looks outside the capital to Ollantaytambo, an archaeological site en route to Machu Picchu, which has been elevating cuisine from the Andean region. With speciality rums, coffee, and craft beers, there is also homegrown food that puts emphasis on tradition and is cooked in earthen ovens. While the Sacred Valley and Machu Picchu are must-sees on any Peruvian itinerary, National Geographic recommends Choquequirao, an isolated Inca site that doesn't have the traffic of more well-known ancient ruins. And also check out other highlights such as Colca Canyon! Forbes points out that this surreal landscape is perfect for trekking, as well as observing the magnificent condors that soar above the river canyon. With magical vistas, ancient ruins, and the finest cuisine, it's no wonder that we chose Peru as one of our newest destinations, using our familiarity with the country to add an insider's touch so you truly get to see this amazing place in all its glory.
See trip to Peru
5. GREECE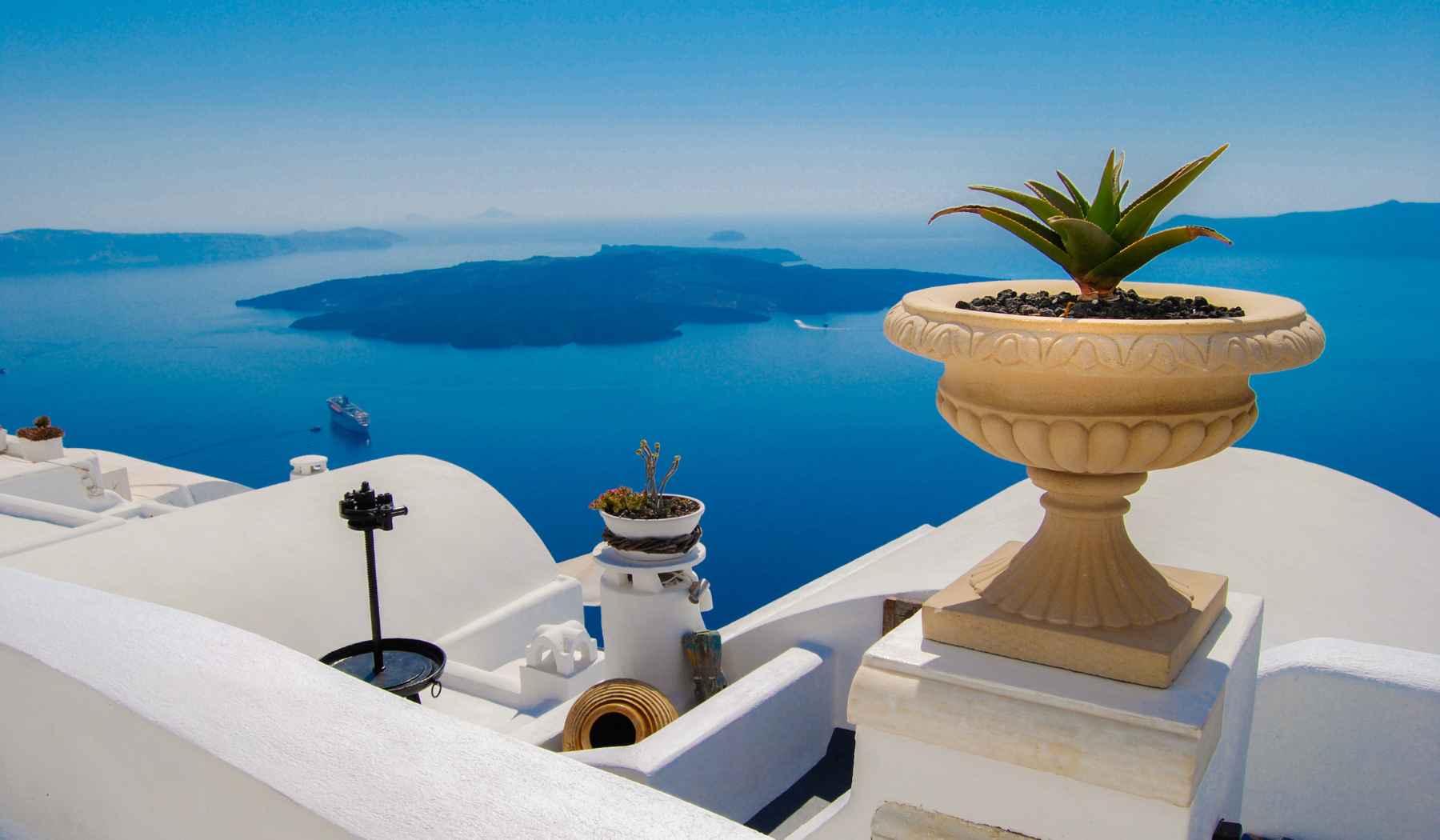 Vier from a Santorini terrace. Source: Canva
Greece travel has been booming since spring 2022, especially trips to the Greek islands. Thinking about unwinding on a picture-perfect beach sounds very appealing, and its easy accessibility makes it ideal for a short getaway. And Lonely Planet puts Greece on its list of the best in travel 2023 as a place to unwind, pointing specifically to islands in Northern Greece in the Aegean Sea. Forbes, on the other hand, recommends Paros, an island with golden sands, fishing villages, and whitewashed buildings, while National Geographic picks Karpathos due to its sustainable tourism practices. When it comes to Greek Islands, we suggest hopping between a few of them to have a true holiday adventure. And while soaking up the sun is what often comes to mind when we think of Greece, don't sleep on Athens! Both Travel + Leisure and Frommer's chose the capital as a destination for 2023. They point out that it is cheaper than most places in Europe, while having some of the best nightlife and food on the continent. In the past few years, Athens institutions such as the Stavros Niarchos Foundation Cultural Center have become hubs of arts and events, and the recently refurbished National Gallery shows off works by El Greco and others. After a reduced schedule during the pandemic, the Odeon of Herodes Atticus, a two-thousand year old amphitheater on the Acropolis, will return with shows in 2023.
See trip to Greek Islands
6. JAPAN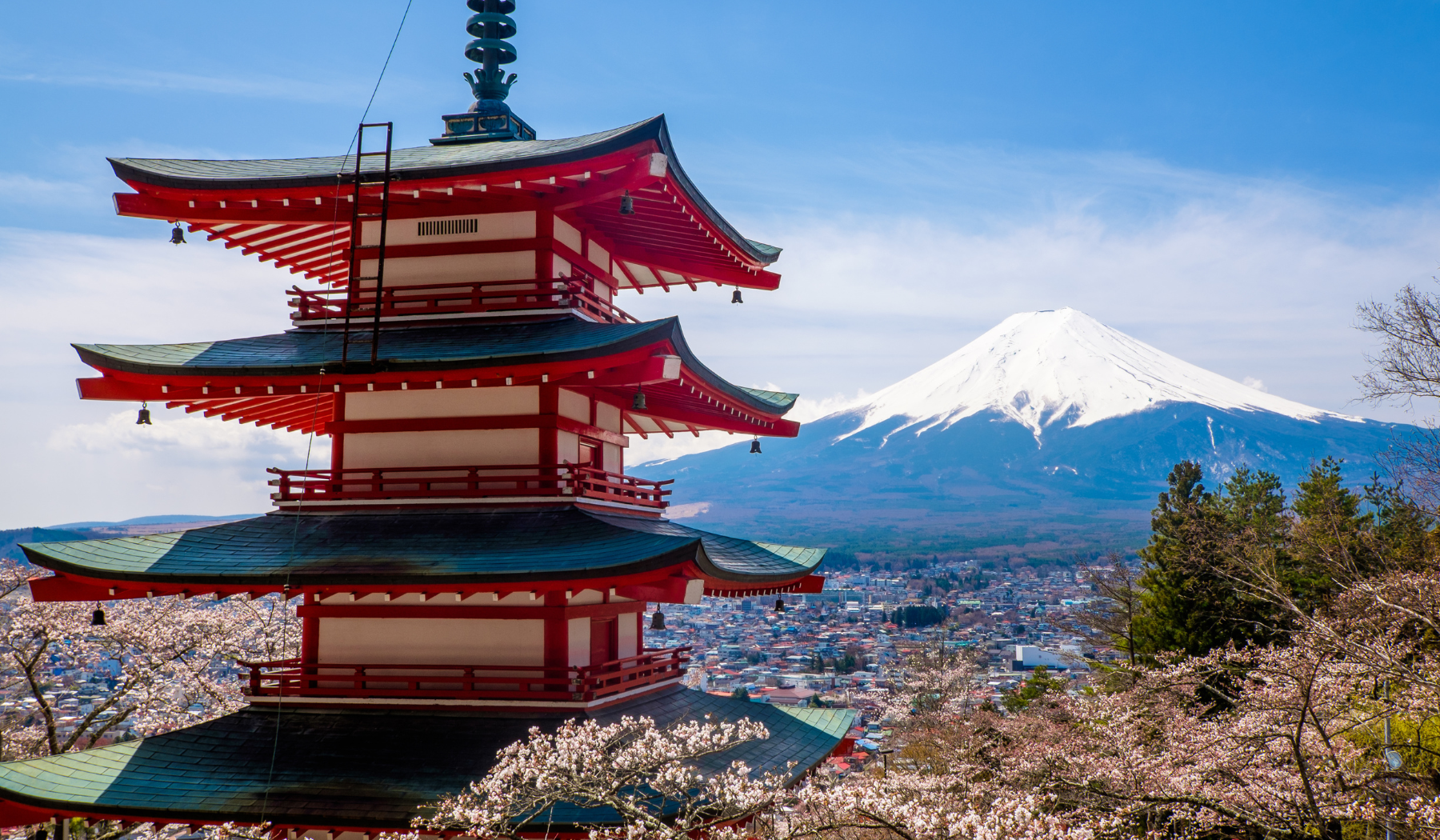 View of Mount Fuji, Japan. Source: Canva
There's so much hype around Japan right now. Although it's long been a popular destination, after being closed to tourism for several years, the excitement about travelling there again is at a fever pitch. Frommer's points out that it's also never been more affordable to go to Japan. Travel + Leisure notes that Kyoto's Gion Matsuri festival will return this July, and in August, the bonfire celebration Gozan Okuribi will take place, making this summer an exciting time to be in the ancient capital. Lonely Planet lists Japan in its best of 2023 due to the cuisine, singling out Fukuoka on Kyushu island for its Hakata ramen, along with great art, shopping, and architecture. Travel to Kyushu has never been easier, as Condé Nast Traveler remarks, due to a new bullet train connection into vibrant Nagasaki. As well as onsens, natural hot springs, the island is notable for its art, with new Comico Art Museum in Yufuin, showing works by artists such as Yayoi Kusama. For art lovers, Forbes also directs your attention to Naoshima, with numerous galleries set within a serene landscape. Japan blends traditional culture with cutting-edge visions of the future better than almost anywhere in the world, and there's no better time to explore its ancient temples, neon-washed streets, and immense natural beauty than 2023.
7. MEXICO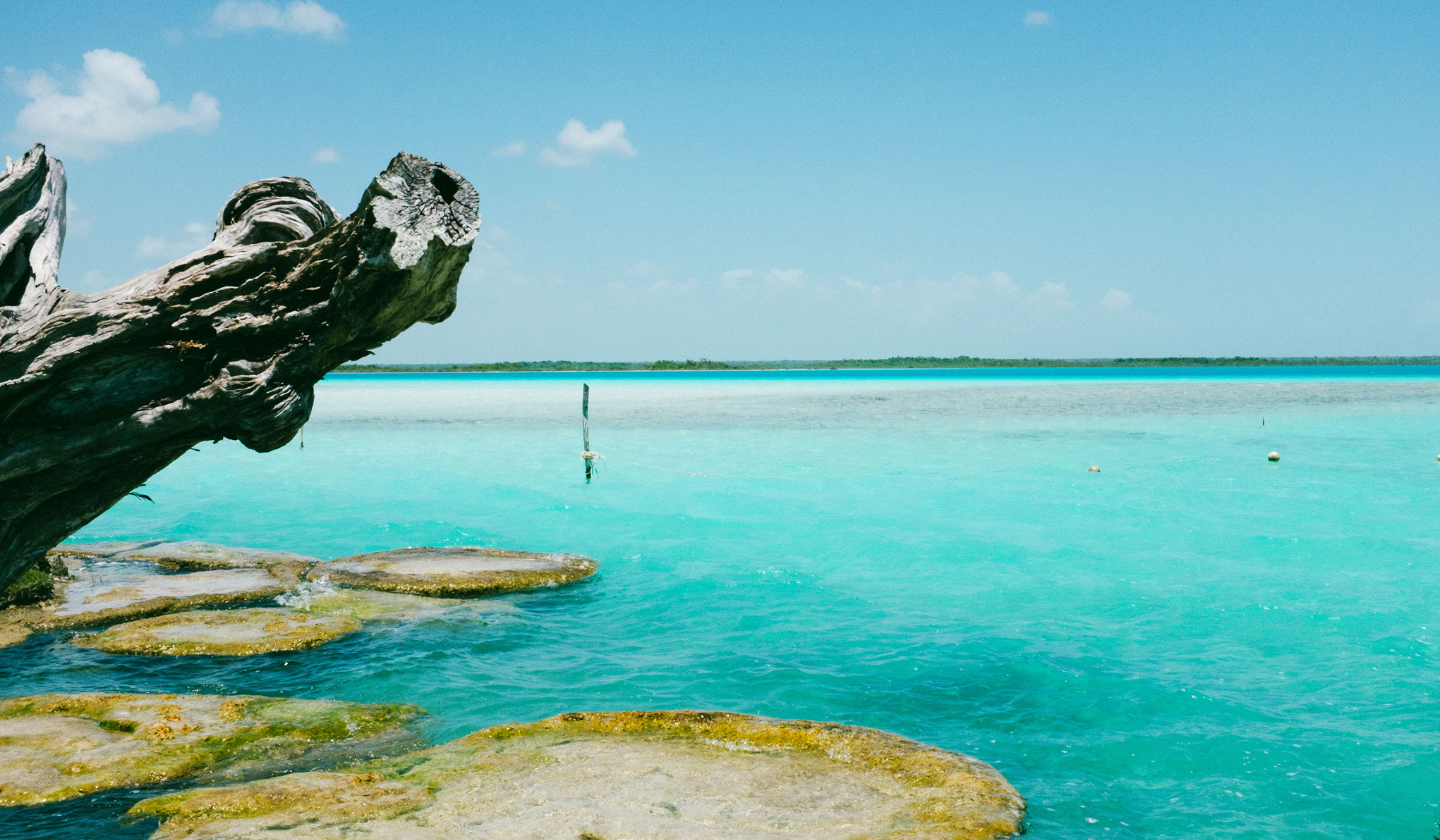 Crystal clear water in Bacalar. Source: Canva

Mexico made it onto many best of 2023 lists, particularly the Yucatan Peninsula. Frommer's points out that investment in the Tren Maya rail network makes moving between destinations such as Cancun, Tulum, Chichen Itza, and the Riviera Maya easier than ever. Dubbed the "train through the jungle," the railway will open in 2023, as well as a new airport in Tulum. Both Condé Nast Traveler and Travel + Leisure highlight exciting new accommodations opening in sites like Bacalar, the Sian Ka'an Biosphere, and in nooks along the Riviera Maya, with features like organic gardens, meditation spaces, and bungalows inside mangrove forests. Travel + Leisure looks to the Pacific Coast and the beach town San Blas as the best place to soak up the sun in Mexico, while National Geographic recommends finding adventure in Revillagigedo National Park, with its large population of sharks and manta rays. We like Mexico because it combines vibrant culture with lush landscapes, and is just the right balance of cosmopolitan cities and unspoiled nature. And tequila. We also enjoy the sumptuous street food and the tequila.
8. MOROCCO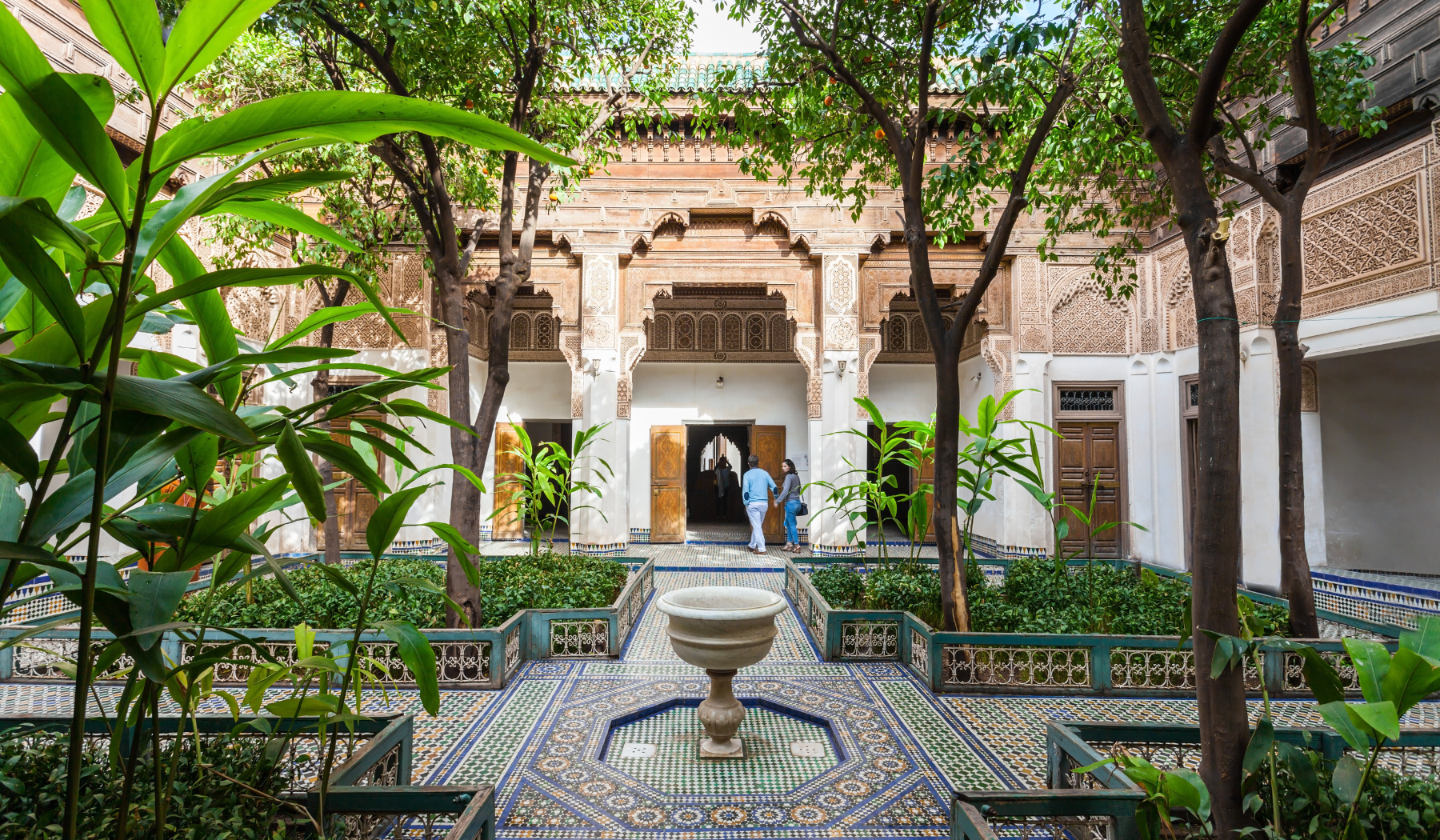 Marrakesh Bahia Palace. Source: Canva
Both Forbes and Condé Nast Traveler put Marrakesh on their lists of must-visit places in 2023. They both recommend the splendour of well-appointed riads in the midst of the exciting and historic medina, oases of chic to complement the energy of the souks. Marrakesh really has it all, with exhilarating nightlife and ancient charms, not to mention the food. It's also the perfect place for buying well-crafted and unique goods, whether they be ceramics, wood crafts, clothing, or jewellery. This is a city made for designers, or those who appreciate good design, whether shopping or exploring spaces like the Monde des Arts de la Parure, where thousands of textiles and ornaments are on display. An exhibition at the Museum of African Contemporary Art Al Maaden, on until July 2023, highlights new works made in the city. If you are interested in visual art, Travel + Leisure recommends Tangier for 2023, specifically because of its Kasbah Museum, on the site of a 17th century prison. Of course, the bustle of Moroccan cities is only one side of the country, and we recommend pairing it with
time in the Sahara
, gazing up at the countless stars and getting to know Berber culture while sipping mint tea with locals.
Not to boast, but Indico Travels goes to all these destinations that made it to the top of lists recommending where to go in 2023. I guess you could say that we're ahead of the trends! Best of all, we craft our itineraries from a local point of view, with experiences you won't find in any guidebook. So even if you choose to go somewhere on other people's wish list, we can promise you'll have an experience like no other. Take a look at our
trips
to see some of the unforgettable people we'll meet and places we'll go, and book your next adventure!