In 2013, I discovered my love for traveling solo. It started with a 4-day short trip to Spain. Fresh off the plane I went to the next bar: There I sat grinning under the starry sky in the mild spring breeze, with my € 0.50(!) glass of red wine and thought to myself "this is so much better than sitting on the couch at home!"
Since then, I've often traveled alone. When I talk about my solo trips in Asia, South America, the USA, people often ask: "Aren't you afraid to travel alone as a woman? Aren't you lonely on the way?" I met some of my best friends while traveling. Still, many people are unsure when it comes to packing up their things and leaving on their own. According to a 2019 global study conducted by Klook, 76% of respondents indicated that they have either traveled alone already or are considering it – and rightfully so! Solo travel gives you so much. The freedom to decide for yourself what to do and when. An increased openness to make new acquaintances and friends. The opportunity to grow. At 38, I've now traveled to almost every continent in the world on my own and would now like to share my top tips for solo travelers with you.
P.S.: Are you over 30? I've written up tips specifically for solo travellers over 30 - download our free e-book here!
1. Choose your travel destination consciously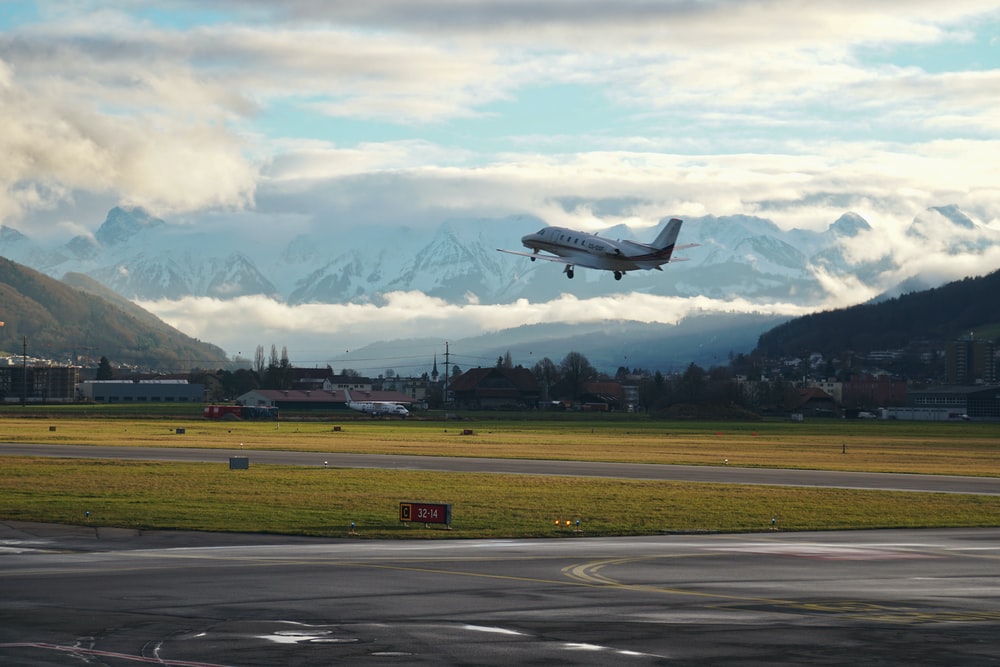 Departure to the next adventure - Source: Unsplash
It is easier to get around and meet people in a city with museums, cinemas, etc. than it is to go to a small village with little opportunity for activities. Think about what you want from your vacation - to hike alone in nature and reflect? Or discover something with new people?

Personally, I usually choose well-connected places (and accommodations) that are easy to get around on foot or by public transport. Renting a car is often expensive on your own, and navigating foreign countries without a passenger can be difficult because you only look for street names / parking spaces with one pair of eyes.
2. Download navigation software beforehand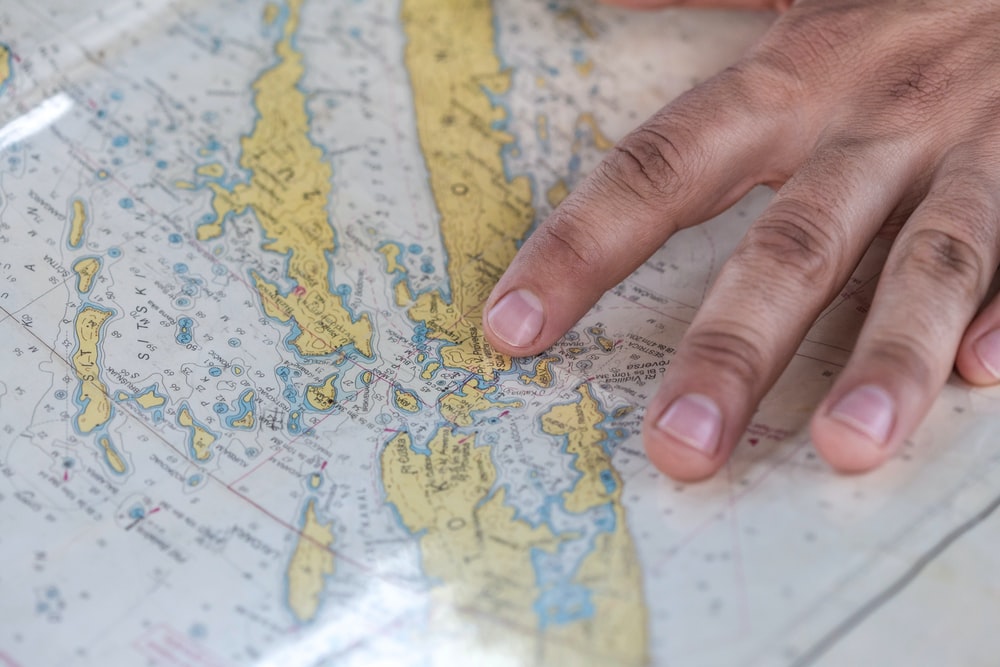 Map - Source: Unsplash
Download a Google Maps map (or a map from an alternative brand) for the respective city beforehand. This way you can also use the map in offline mode and save data. Note: you'll still see your location on the map via GPS without using data! To download a map on Google Maps, go to "Offline Maps / Select your map" in the app settings. Especially if you are traveling alone and do not know a city, it can be important to get to your destination as directly and swiftly as possible - for example if you are in a slightly sketchier area (the red-light district of Takayama in Japan sends its regards). You want to avoid wandering around forever or looking at a map, but confidently march on in the right direction.

But: Don't always use Google or Google Maps to get answers to your questions. If you're not rushing, feel safe and want to know, for example, how to get from the train station to the hotel, ask the locals. If you just look at your cell phone and rely only on yourself, you miss so many little moments with other people. For example, the older man on the bus who is proud to point out to the foreigner that she has to get off now.
3. Prepare for language differences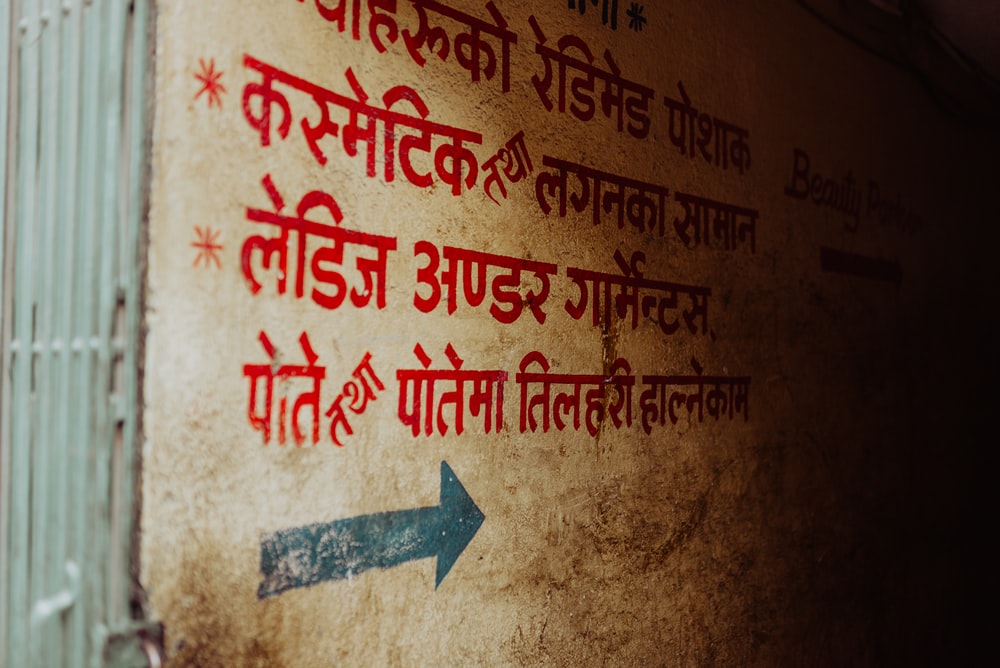 Signpost in Nepal - Source: Unsplash
Learn a few words or phrases in the local language - it's likeable and helpful. You can download Google Translate with the language of the respective country. With it, you can also use the camera function and hold the camera over the text, which is then simultaneously translated - very futuristic and useful in restaurants!

But be careful with Asian characters: I learned in Japan that the camera function is unreliable. Depending on how I held the camera, the ingredients for a product were either "cinnamon" or "fat boy". Still: the typing function was really useful! I wrote what I wanted in English ("vegetarian") and held the translation out to my counterpart.
4. Choose your accommodation based on your social needs
If you have the choice between a hotel and a hostel, I would always go for a hostel. I always choose one with nice common rooms (kitchen, living room, roof terrace), you can see them on booking websites. People tend to linger in beautiful rooms and get into conversation. In addition to the shared dorms, many hostels also have single rooms, so you can have your own room but still make better connections than in a hotel, for example. Many hostels also offer regular guest activities. For example, I was at the Auberge NOLA Hostel in New Orleans and had a great evening at the brass band concert with other roommates. You can also research this before booking. By the way, in the cheapest hostels or party hostels you will usually find very young people. If you want to meet people over 30 - and sleep better - ignore the cheapest deals and spend a few more dollars. Quality over savings is what counts here. If you are staying in the dorm room, be sure to take earplugs with you in case one of your hostel roommates snores!
If you're over 30, I've got specific tips for you regarding finding accommodation. Download our free solo travel tips 30+ e-book!
5. Get to know the country better by staying with the locals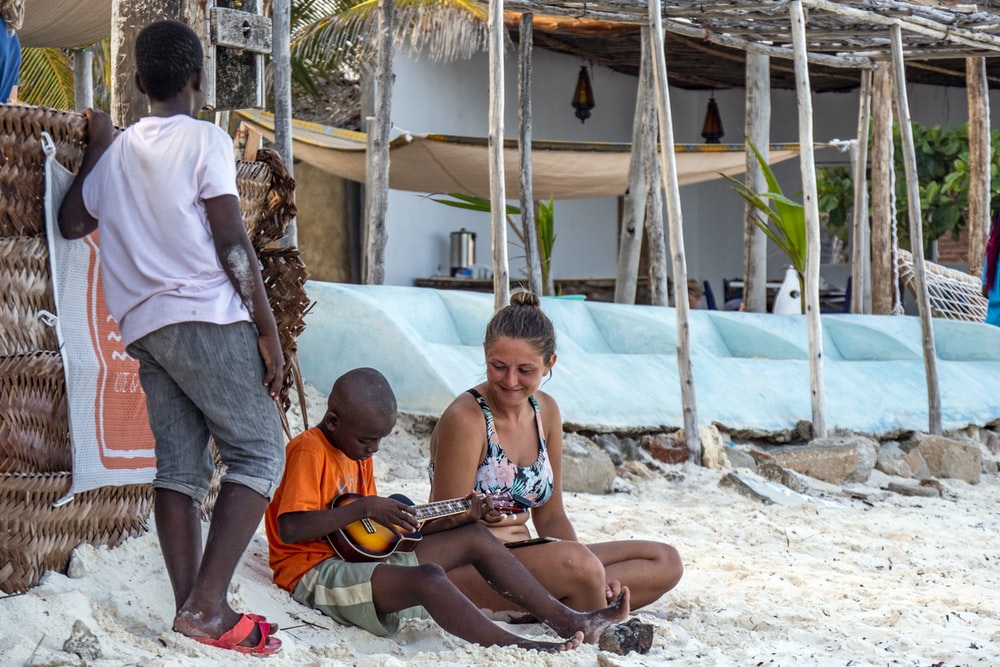 Locals allow you to experience the authentic life. - Source: Unsplash
If you'd rather get to know the locals and their culture, you can get a room in a shared apartment at Airbnb, for example. Sometimes the owners live there - but sometimes they rent the whole apartment, so take a close look at the profile of the apartment if that's important to you. Couchsurfing is another great idea to get to know locals - because you sleep on their sofa for free (for an annual membership of around €30/USD40). People who offer their rooms on Couchsurfing do so to get to know people from all over the world, and are therefore often particularly hospitable. But make sure beforehand that they have several good reviews! It is best to get to know them beforehand in a public place and simply cancel your stay if you feel bad. Safety first!

Otherwise, there are "homestays" in many countries where you stay with locals. There are also so-called "community-based tourism" projects, in which locals are aiming to improve the well-being of their entire community through tourism. They often offer homestays, with family meals together. Fairtrips is a great platform to find such homestays, or search online for "community-based tourism homestay" to see if there is anything there.
6. Make contacts online beforehand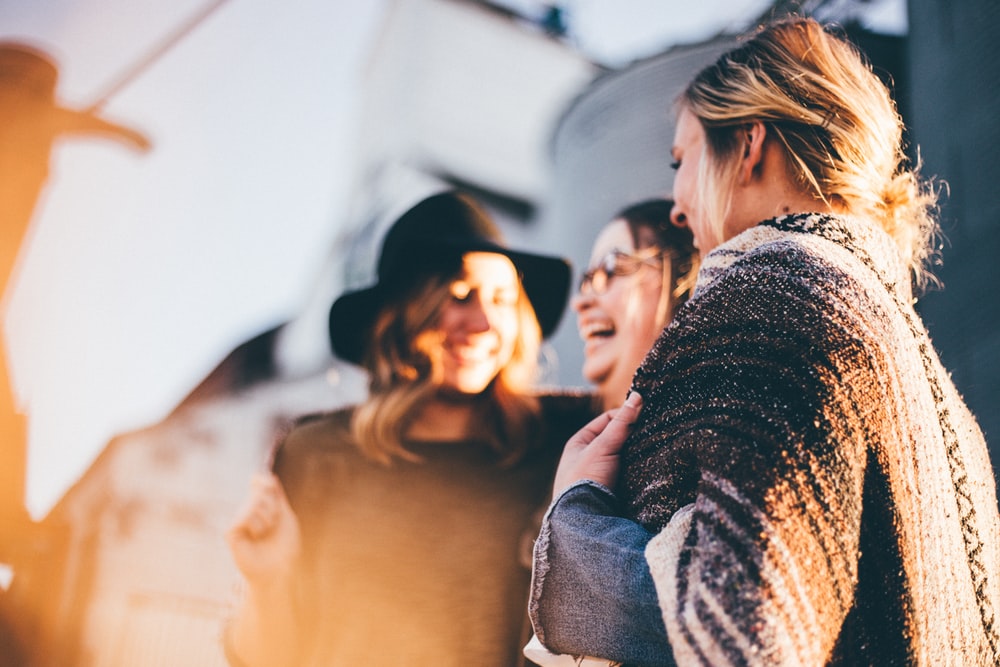 Get to know other solo travelers online beforehand - Source: Unsplash
If you're looking to socialize on your trip, you can post in Facebook groups for solo travelers or travel buddies before your trip to see who is there and to make contacts in advance. You can also search for travel groups for solo travelers like "international people in [your travel destination]" on Facebook and post that you will be there soon and are looking for tips. Here are some non-location-specific groups you can use, for example:


7. Get connected via location based apps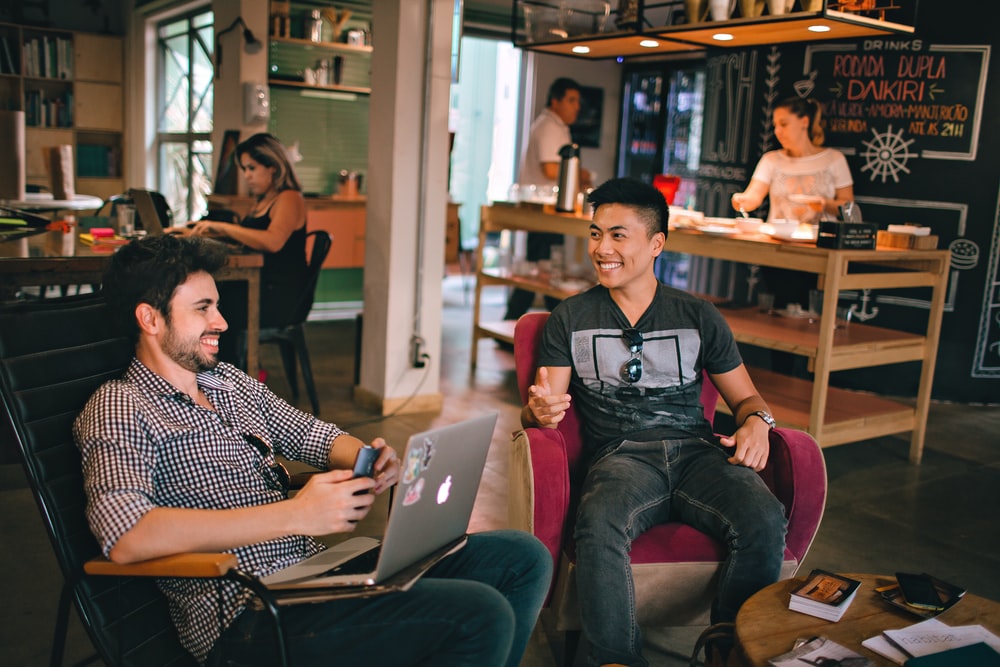 Travelers getting to know each other - Source: Unsplash
If you are single, you can look for someone to date locally through apps like Bumble, Tinder, OKCupid. It's great to be taken to the nicest bars by locals! Couchsurfing Hangouts is also great for non-singles. There you can see what people around you want to do and join their activities. You write "I want to... go and see the Eiffel Tower", and people can request to join your chat about it and arrange where to meet. For example, I was traveling alone in Tokyo and found an American called Sean on Couchsurfing Hangouts, who wanted to drink whiskey and sing karaoke. Exactly what I had in mind! I joined the group, and we sang and partied in a karaoke bar until 6:00 a.m. I'm still friends with two people I met that evening, and we meet up for fun activities in Europe.

Meetup is a platform for local meetings on a specific topic - for example, there are tour groups for solo travelers that go to art exhibitions or concerts together, or for international people. Check out the upcoming events in the city on the Meetup app or website and join if you are interested.
8. Ask questions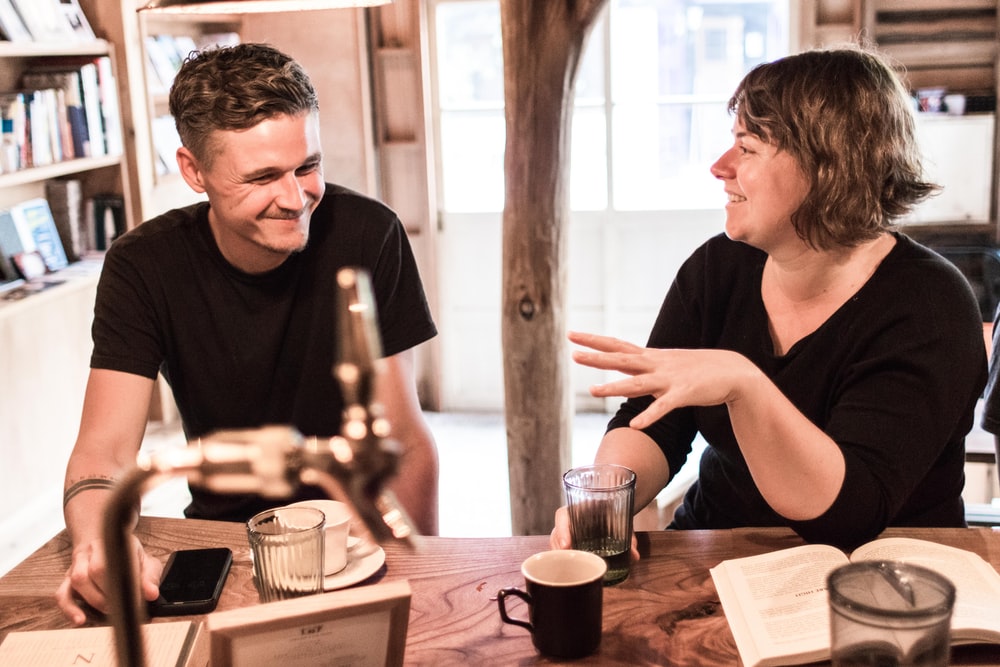 When you ask questions, you automatically start a conversation - Source: Unsplash
Ask questions whenever you can. What is this dish? What kind of sport is this you're playing? This way you get into conversations with locals and tourists - because we are no longer at home! You won't be declared crazy if you exchange a few niceties ;)

For example, I asked an older man on a beach in the Florida Keys what kind of animal was swimming in the water - and we got talking. He came from the area and gave me tips for nice viewpoints, restaurants - half an hour later I was sitting in the sun on the terrace of a restaurant that he had recommended and could watch pelicans splashing in the sea while sipping a piña colada.
9. Take something with you to keep yourself busy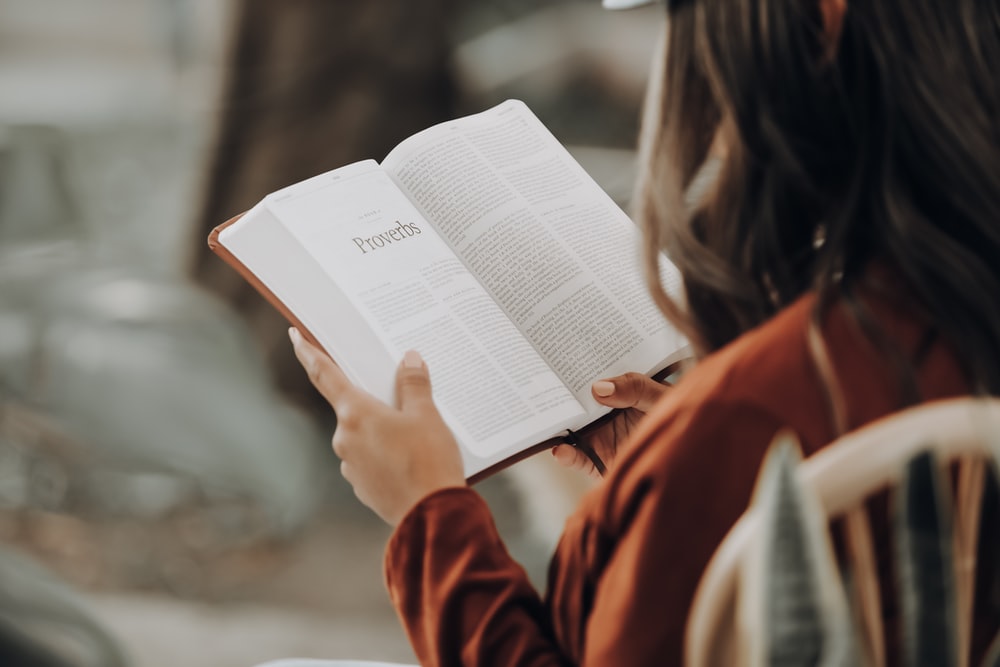 Reading a book is always a good backup activity - Source: Unsplash
I often take a book or something else with me (e.g. my camera to sort photos) so that I have something to do if I feel like I look very lonely. This can happen in restaurants where everyone else is out in a group. You can also take a guidebook with you and put it on the table when eating / in the café or leafing through it. This serves as a good basis for starting a conversation with others - for example, the waiters sometimes ask where you come from, or someone from the table next to you will talk to you. It is better not to use the cell phone for entertainment - it can give people the impression that you are not interested in a conversation.
10. Do not plan the whole route - be open to spontaneous adventures!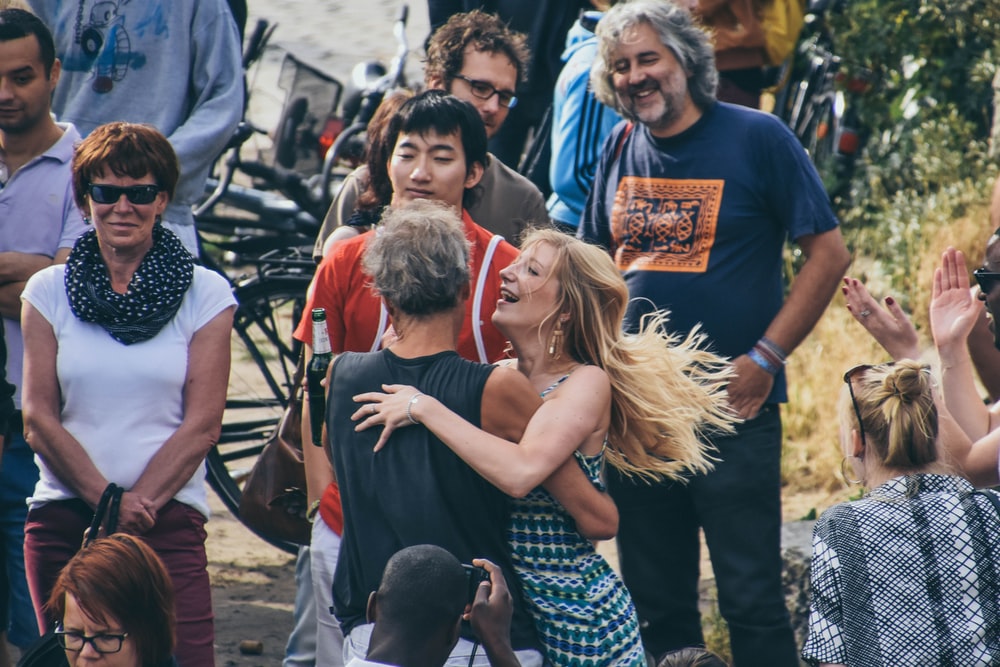 Be spontaneous and open to new adventures - Source: Unsplash
Having a few backup plans on hand isn't bad, though. For example, if you meet someone with whom you would like to spend more time, you can simply ask: "I want to go to market x tomorrow - do you want to come with me?". But if they say, "I wanted to go to this hidden beach tomorrow that I heard about" - then maybe you can spontaneously join them.
11. Have your backup team at home - just in case
Before you leave home, leave all information about your travel insurance / foreign health insurance with a person you trust (and carry the insurance company's contact details with you) - just in case. In an emergency, you can say: I have to see a doctor, you can agree with the insurance company - instead of having to talk to them yourself if you are not feeling well.

It also makes sense if someone always knows where you are roughly at the moment - again, just in case. For example, on a longer trip to Asia, I had a "Where is Sina" WhatsApp chat with my sisters, where I posted a new location pin every few days, or PDFs with booking details for the next hostel without many comments. So, I didn't have to spend a lot of time chatting, I was able to concentrate on the trip, but still someone roughly knew where I was at the moment.

These were my top tips for traveling alone. I hope you find them useful! But one of the attractions of traveling alone is the unknown, the freedom to do your thing and let yourself go with whichever flow calls you.

If you are 30-45 years old and want to get used to traveling alone: ​​I develop group tours for Indico Travels for solo travelers aged 30-45 year old. So, you join the group alone, and then discover the world together with new people. More on solo group tours and guided vacation tours for solo travelers on the Indico Travels website.

Wishing you a wonderful time on your solo adventures!

Sina