Over the past 18 months, travel is one of many leisure activities that have been hindered. Global tourism ground to a halt as we all holed up in our homes and national borders to protect ourselves and each other. Now that vaccination rates are steadily increasing in many countries worldwide, many governments are reopening their borders and people are starting to feel "wanderlust" (the desire to travel/explore) again. Maybe you are one of those people, but asking yourself whether it may be wiser to wait before making any travelling plans? When making your decision, take into account that there is a unique opportunity for you in travelling right after reopening. I've been travelling in the past year - to Greece and to Portugal twice - and can confirm I have felt safe, received a wonderful welcome from locals that are waiting for tourists, and I've had the best time! Let me explain why you should consider travelling now.
You'll have the place to yourself! (almost)
Anyone who's ever visited the Sistine Chapel in Rome probably had the same thought while admiring the breathtaking frescoes on the ceiling: I wish I could marvel at these works of art without being closely packed with hundreds of other people, being driven through the chapel like a herd of cattle. Staff constantly shush the many visitors - themselves disturbing the ethereal atmosphere of the space - which can really impact your ability to take in the beauty of the place.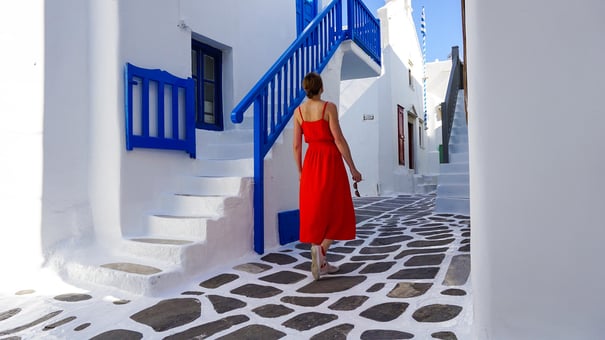 Mykonos island was pretty much empty when I went in May 2021!
So the chance for everyone who's willing to get back into travelling rather sooner than later: Many people will be hesitant to book a trip right after a country reopens. This means fewer tourists to share the space with. Santorini without tourists was so stunning this June!
Do you want to wander the gorgeous halls of a picturesque Portuguese palace like you own the place? Join other travellers in their 30s and 40s on our 5-day trip to Lisbon, where you'll visit Pena Palace and beautiful countryside of Sintra!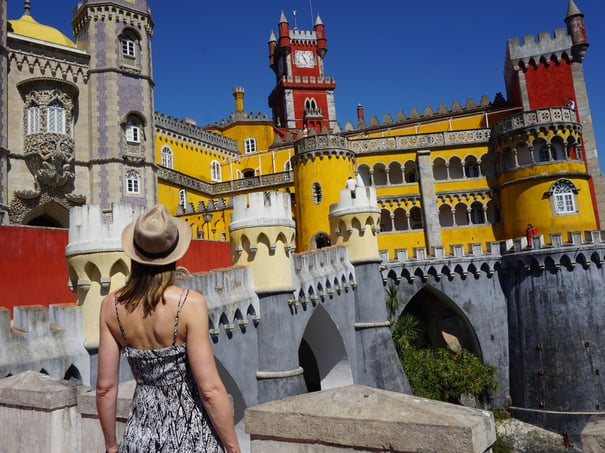 I was almost alone at Pena Palace in Portugal in September 2020
You deserve a change of scenery
This past year and a half wasn't easy on any of us. Most of us hardly left our homes, not being able to see friends and family, constantly concerned about our loved ones. On top of that, many were even working from home, thus being mostly confined to our flats for months on end. Now that many people in our age bracket are fully vaccinated, we can start to think about travelling again. It's vital to our mental health to experience a change of scenery from time to time and not feel like prisoners. For me, hearing different languages and seeing the sunset over the Aegean Sea was so good for my wellbeing.
Maybe you also feel like you lost one and a half years of your life. Let's not waste more time - life is short! If you are tired of walking the same streets of your hometown, grab that travel bucket list and start making plans for your next trip. Even just booking will give you something to look forward to and a mental escape. If this period has told us anything, it's that you don't know what to expect, so try to live your life to the fullest while you can - while remaining safe and considerate. Get ready to experience the beauty, sounds and flavours this world has to offer again.
Support the locals
Countries that depend on tourism were hit especially hard by the pandemic. Many of our partners throughout the world suffered due to the lack of international visitors. Colombia, for example, had seen economic growth in recent years thanks to tourism, which benefited the locals. In 2020, hotel occupancy dropped by over 60% there (source: Statista) compared to previous years, which directly impacts on jobs and families that depend on those incomes. Now that the coronavirus is slowly getting under control, we can once again support the local communities and hosts that we visit on our trips - like the families of La Boquilla, a community based project near Cartagena that we visit on our 14-day trip to Colombia. As you can see, travel doesn't just benefit you - it gives many families and communities new opportunities after a long period of economic struggle and increasing anxiety about their livelihoods.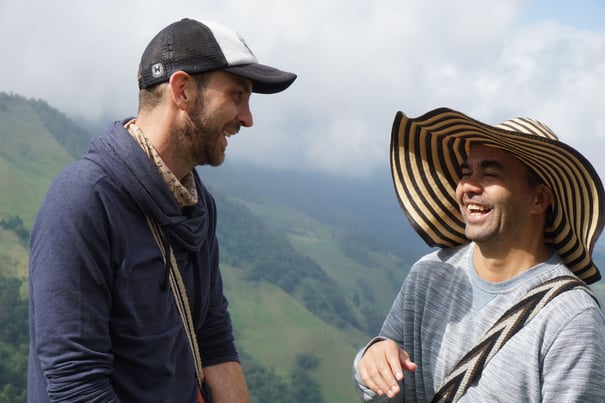 Local guides - like here in Valle de Cocora in Colombia - depend on income from tourism and can't wait for us to come back!
Don't miss this opportunity!
This may be your only chance to see the world's wonders in a way that you couldn't normally. If you're among the lucky people who've already got full protection from a vaccine, I encourage you to do your research, and take this opportunity to experience the gems of our travel destinations in a way that is usually reserved to local night guards on duty. Be among the first to once again experience the freedom of travel and make everlasting memories of magical places that will soon likely be crowded again!
If you're ready to travel:
If you do decide to travel now, we recommend following these tips:
book flexible plane tickets, in case your plans change (you can filter by "flexible tickets" on comparison websites like Skyscanner)
go to countries that are welcoming visitors and have established safe travel schemes for tourists
be respectful and careful of local hygiene measures - we need to protect local communities, too!
take your own safety precautions (wear masks, use disinfectant, don't book shared accommodation)
make sure to buy good travel & health insurance
stay aware of the situation on the ground (follow your government's advice as well as news from the local embassy)
Travelling with a tour company can be very useful at a time like this, as they know the situation on the ground and can easily adapt to changing circumstances - for example rebooking your hotel if necessary.

If you're ready to be a pioneer: We at Indico Travels are planning our next group trips for travellers in their 30s and 40s and would love to have you on board. Trips will only take place if it is safe and fun to do so, so you can book and lean back knowing that we have an eye on the situation on the ground and will let you know if there is anything important you need to know. Save yourself the hassle of keeping updated yourself and book yourself in for one of our trips for travellers in their 30s and 40s now!