We've all benefited during lockdown from time to reflect on responsible practices. Tourists are now more aware than ever of the impact travel can have. Many seek to make more careful choices, which take into account the need for the conservation of natural resources and wildlife, the protection of cultural heritage, and the social and economic development of host communities. It would take us weeks to talk about all sustainability criteria one could apply for travel, so as a company that is especially interested in connecting different cultures, this article will focus on how to travel in a way that helps local communities. And there's no doubt, socially responsible tourism is also the best way to immerse yourself in the local culture!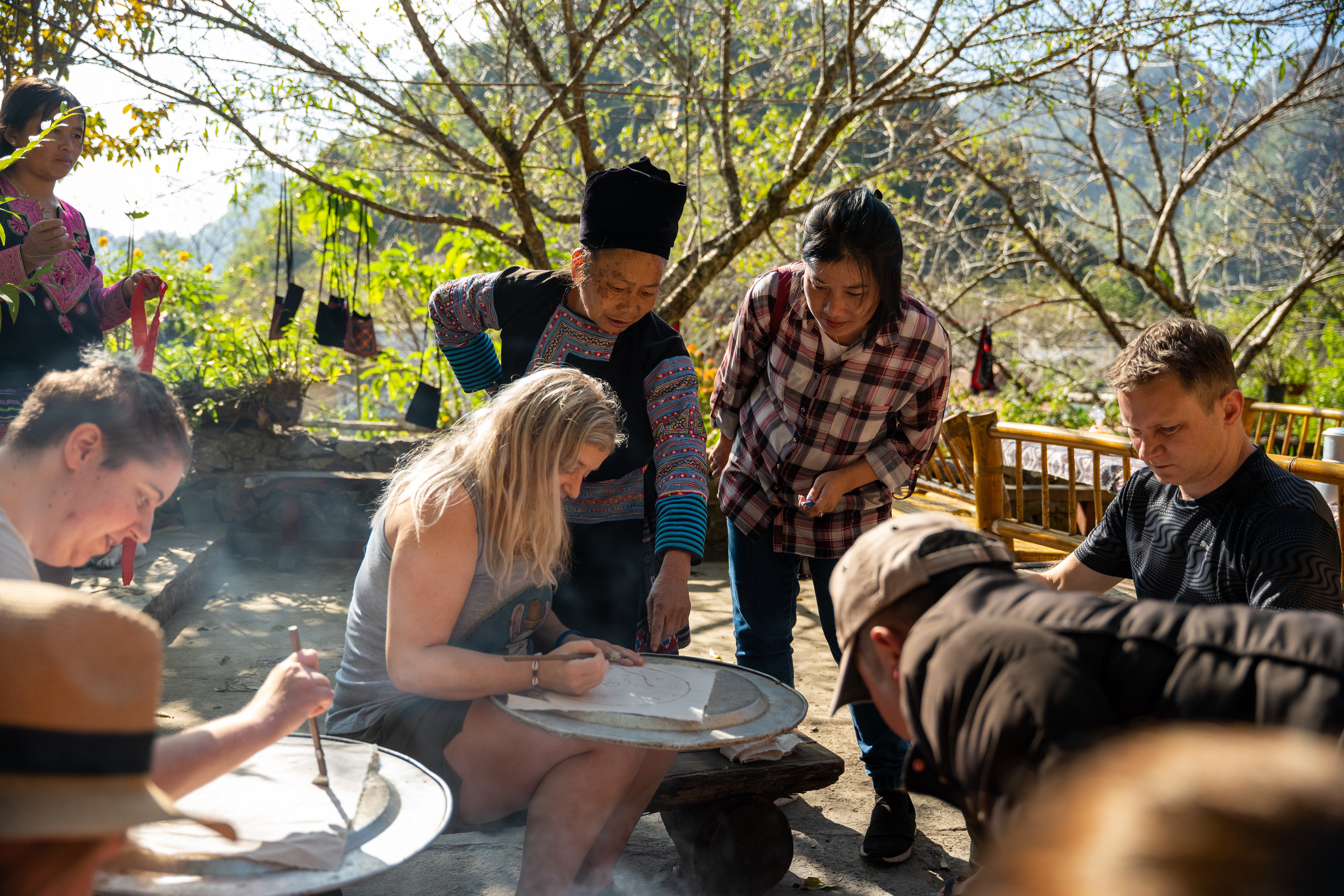 Our travellers learning Batik painting from H'mong women in Northern Vietnam
So, how can you travel more responsibly and sustainably?
You as a tourist can have a positive impact, helping to create jobs and stimulate economic growth in local communities. Here are some guidelines on how you can make more sustainable choices on your travels.
How to pick your hotel:
Pick a hotel that is run by locals, rather than an international chain, so that the money you spend stays within the local community

Consider booking accommodation that employs local staff. Many hostels recruit international volunteers who work without pay in exchange for lodgings—which of course does little for the local economy.

If you're happy to stay in more modest accommodation, consider a homestay. Staying in a local's home will enhance your experience considerably, giving you the opportunity to gain a deep insight into the local way of life and enjoy authentic contact with local people.
Supporting local communities through activities
Be conscious of your spending while you travel. Are you supporting the places that you're enjoying visiting with cash?
If you like taking photos at local markets, or are visiting a town on a day trip, support the community by spending some money—even if you're just buying a coffee or a snack. Or buy a nice souvenir, for example from local markets in

Egypt

and

Morocco

,

where there are plenty of colourful traditional handicrafts on offer.

Hire a local guide: Even if you feel like you can find your way around the best spots with only a map, compass and guidebook, consider hiring a local guide if you can afford it. This supports local employment and the economy, and you'll receive much greater insight into the place you're visiting. During our colourful two-week tour of

Colombia

, for example, Indico Travels hires a local guide in the Cocora Valley in addition to our tour leader. Otherwise, we wouldn't be spending much money locally as we just visit for the day, so the community would not benefit much from our tourism.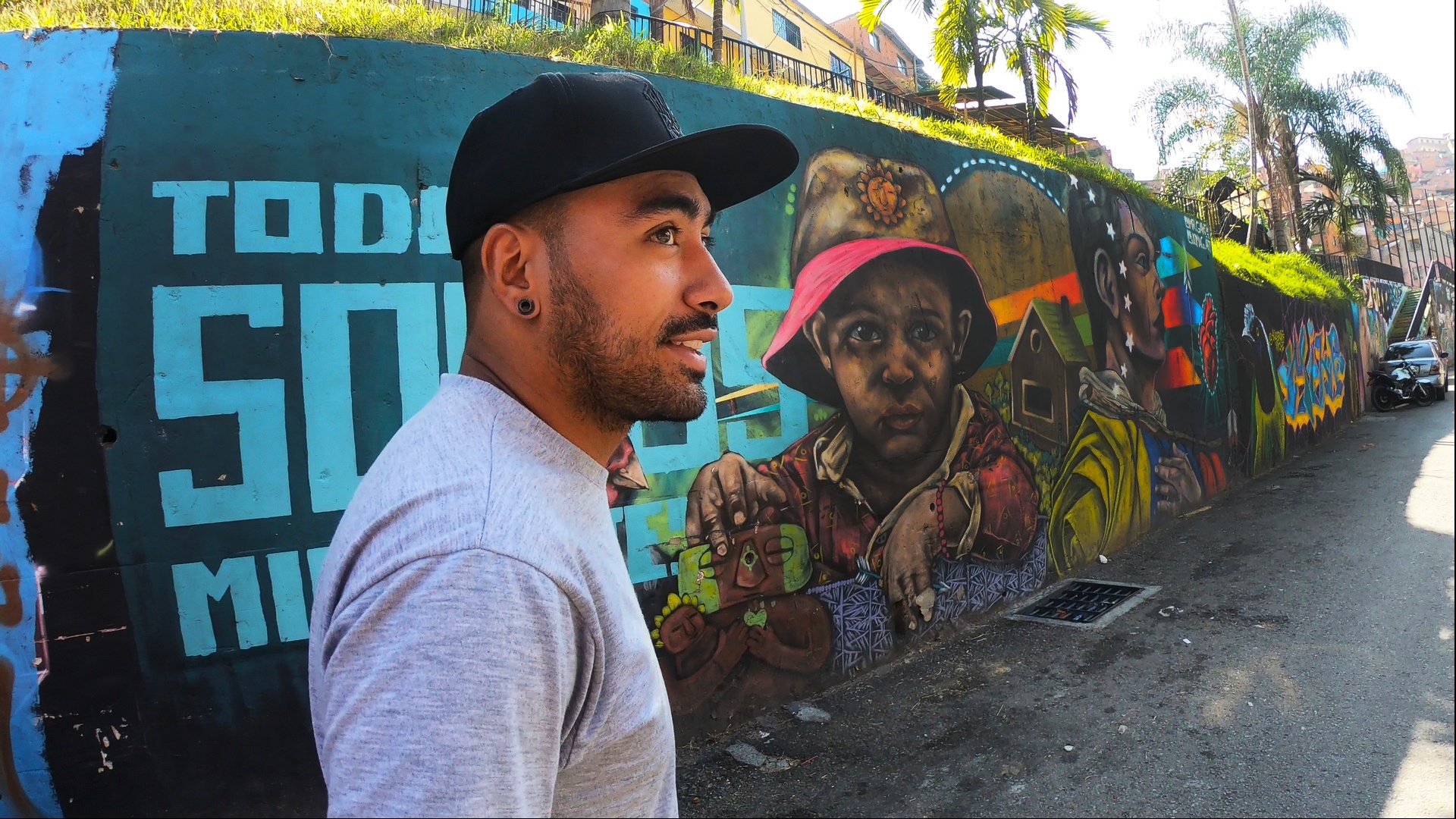 You can support the local economy by booking knowledgable local guides, like Güey from Casa Kolacho in Medellín
Visit community-based tourism projects. These are initiatives that help communities improve their standard of living through tourism activities. For example, the project Ecotours La Boquilla in Colombia is a project where local fishermen who can't make a living with fishing any more take visitors out into the mangrove forest. Indico Travels visits this project on our Colombia tour, before returning to shore, where local women teach our groups how to cook Colombian dishes. Aside from these examples, there are countless opportunities to take part in sustainable tourism all over the world. To learn more, just search "community-based tourism project" + the town/region you want to visit online.
Places to check out for sustainable travel
In Lapland, a vast and diverse region that covers parts of Finland, Sweden, Norway, and Russia, sustainable tourism has become increasingly important in recent years. The Arctic TreeHouse Hotel, located in Rovaniemi, blends luxury and sustainability. Designed to minimise its environmental footprint (and its literal footprint, as it is on stilts), it's built with locally sourced materials such as wood and stone. And in Inari, the Sámi Museum and Nature Center Siida offers visitors an opportunity to learn about the culture and traditions of the Sámi people, the Indigenous people of Lapland.
In a rather hotter part of the world, Jordan, community-based tourism is reviving rural villages while preserving the country's natural and cultural resources. For example, the Jordan Trail Association has developed a 650-kilometre hiking trail that stretches from the north to the south of the country, passing through several cultural and natural landmarks. The project aims to promote sustainable tourism by encouraging visitors to experience Jordan's natural beauty while also supporting local communities along the way. Another project is the Dana Biosphere Reserve, where various sustainable tourism initiatives have been implemented, such as eco-friendly accommodation options (including the locally run Feynan Ecolodge), locally sourced food, and guided tours.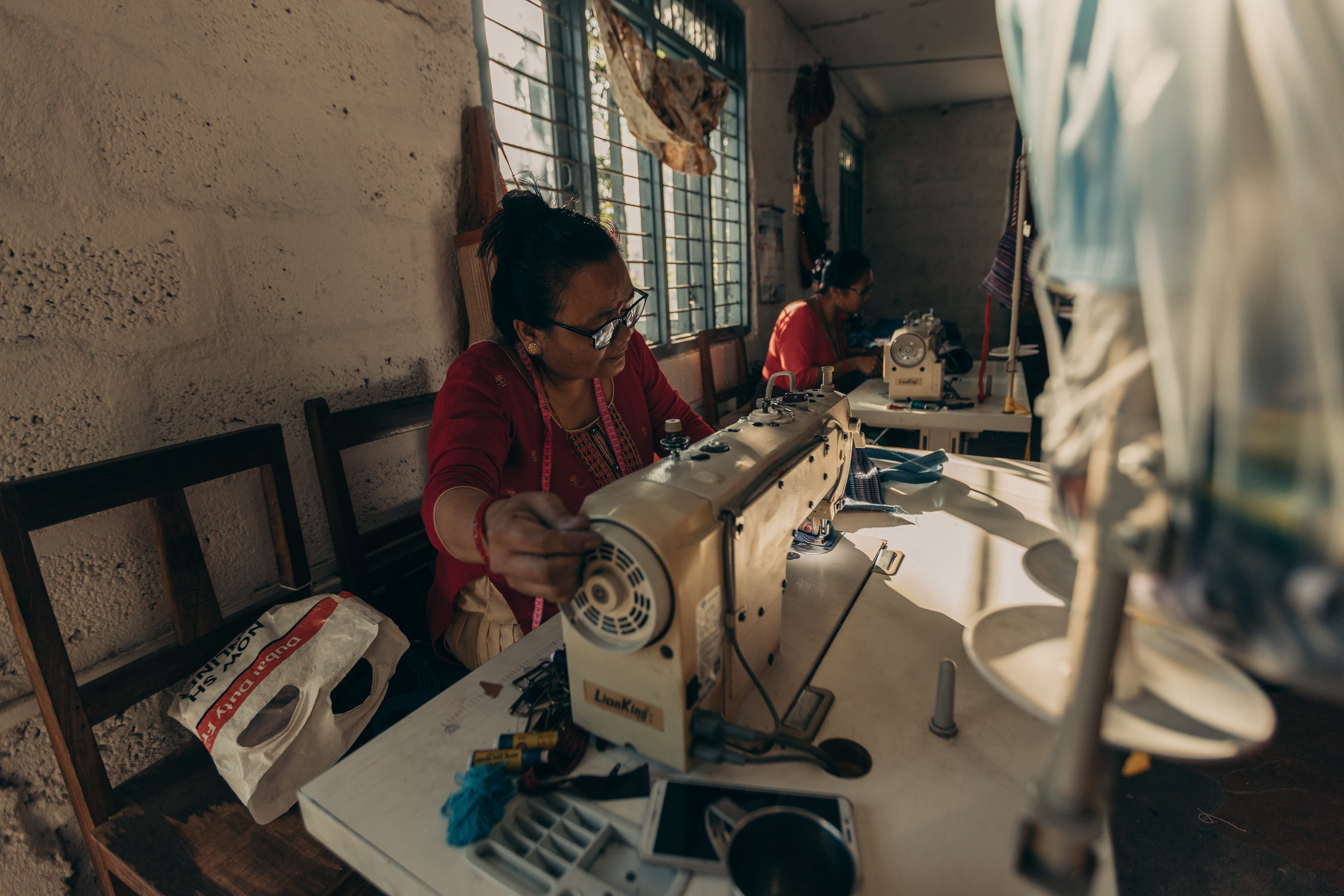 Women Skill Development Organization in Pokhara
Nepal is another destination with several sustainable tourism initiatives that aim to promote eco-friendly practices and contribute to the local economy. In Kathmandu, the Women Skill Development Organization Nepal aims to give economic opportunities to women, in order to further their independence. Here, you can see how the local women weave and sew traditional Nepalese fabrics. Visit it on our 12-day tour of Nepal, where you can experience Nepalese culture, natural surroundings and people up close by taking a multi-day hike on wild trails in the Himalayas, meeting local tribes in remote villages, visiting temples and the famous domed Buddhist monuments known as stupas, and cooking and eating with a Nepalese family.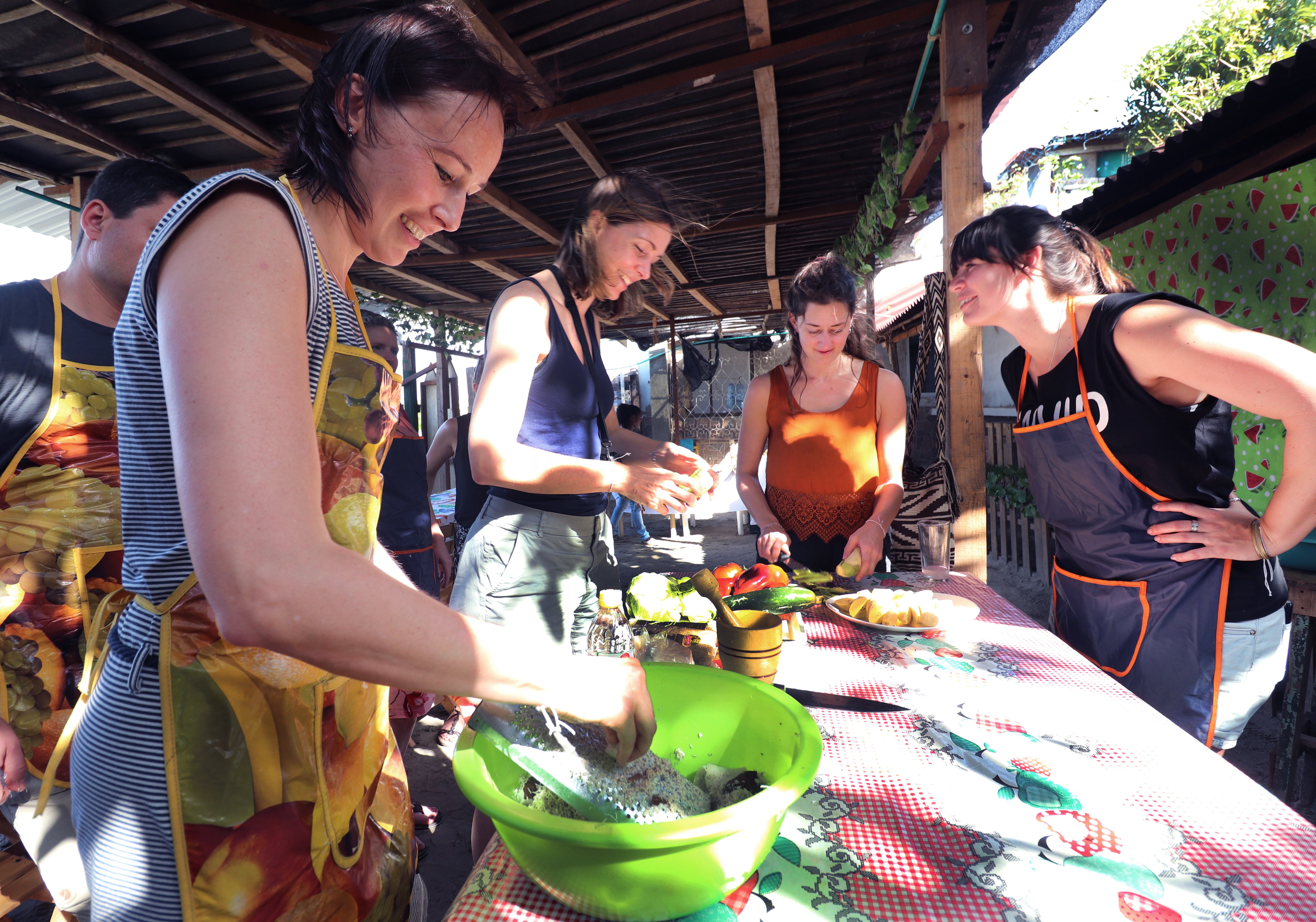 Learning to cook fish with coconut rice with Ecotours La Boquilla in Colombia
In an urban setting, the Casa Kolacho project in Colombia supports young people in Medellín's Comuna 13, helping keep them off the street by promoting street art, hip hop music, and dance projects. On our 14-day Colombia tour, Indico Travels hires guides from Casa Kolacho, who offer a deep insight into their neighbourhood, as only a local can. Search Grafitour Comuna 13 to hire your own local guide for Comuna 13.
In summary, anyone who wants to travel in a responsible way should bear in mind that the local community should always benefit in some way from your visit, and you should leave the environment in at least as good a state as you found it. If you want to save yourself the research: Indico Travels is a certified sustainable tour operator. Travelling with a TourCert certified tour operator such as Indico Travels means you can take care of your footprint all while having the time of your life. Check out our tours and join us on a responsibly planned adventure for people in their 30s and 40s!