Angkor Wat, the famous archaeological park that is known for its temples overgrown with trees, is huge! Situated north of the town of Siem Reap in Cambodia, Angkor Wat boasts dozens of 1,000-year-old temple sites dotted across 500 square feet (400 square kilometers) of terrain. Here is why the park is best visited by bike.
Transport options in Angkor Wat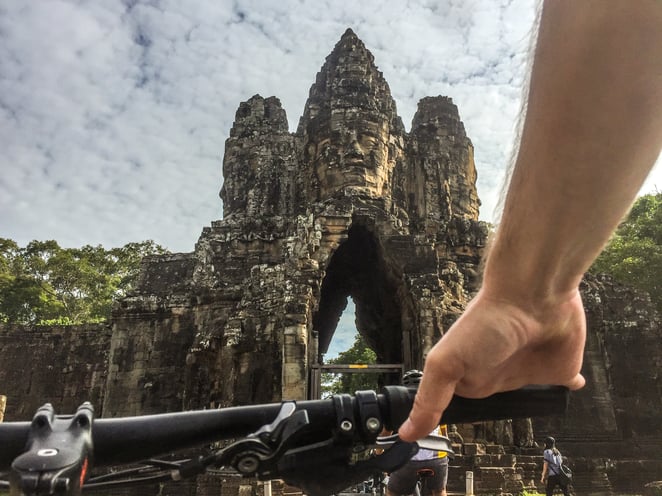 Clearly, the distances are too great to tackle on foot, unless you want to limit your experience to just one temple. While there are plenty of tour buses shuttling visitors around and many people hire a driver with a moto (motorbike taxi) or hop on a remork-moto (otherwise known as tuk tuk), by far the best way to tour the site is by bicycle, assuming you enjoy a moderate level of fitness. It is sometimes actually faster by bike than by a motorized vehicle, as at peak times the avenues can be choked, and you could be waiting in line behind busloads of tourists eager to snap their selfie of a lifetime. The sacred site is best appreciated in respectful calm, at your own speed, without fumes or noise.
Independence on two wheels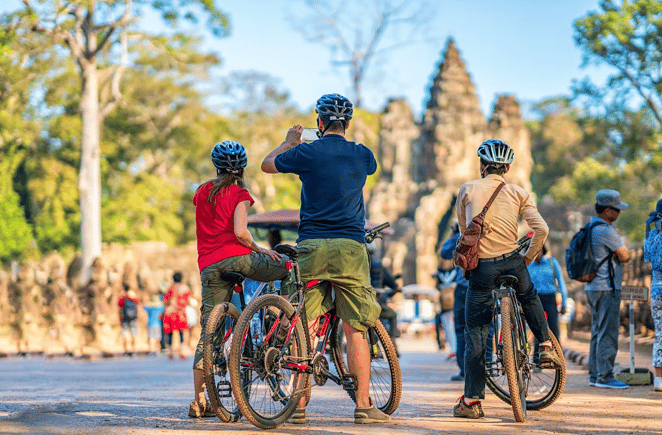 Biking in Angkor Wat ©sharptoyou/Shutterstock
You are doubtless already familiar with the sense of freedom and independence that cycling offers. At Angkor Wat, cycling means you can escape large tour groups and enjoy moments of contemplative silence among the ruins. You can simply stop wherever you like and set off again at will, without having to schedule pick-up times. You can visit all the highlights in just a few hours, or, depending on your entrance ticket type, you could plan several forays on different days.
Tips for getting around Angkor by bike
There are guided Angkor Wat bike tours available in Siem Reap, but you can also work things out on your own! There is no shortage of places to rent a bike around town, and most guesthouses will also offer rentals for very little per day. Make sure your rental includes a lock so you can keep the bike safe as you explore.
You can follow a brand-new cycle path that encourages eco-friendly trips around the various Angkor temples, whether by conventional pushbike or by e-bike. It starts behind the main Angkor Wat temple and ends at the Hindu temple of Ta Keo, and there are two main routes, which can be cycled in either direction. The Petit Circuit is 16 kilometers long and the Grand Circuit is an extended version with a total of 26 kilometers. You can pick the highlights you want to visit from each route. Since they intersect in certain places, with a little planning you can combine elements of the two according to your available time, fitness level, and tolerance to heat.
The sun is very intense, so take plenty of water, sunscreen, and act like a local: cover up, wear sleeves and a hat!
Make sure to take a decent guidebook and your phone. You can forge your own path by looking into the most important sites to visit beforehand and planning your route accordingly. This arguably gives you the most out of your tour, as you will already have the necessary background and context to truly appreciate what you are seeing and come away with a story to tell.
Prefer someone else to map out a route for you, and tell you about the sites? A local guide will take you off the beaten track in Angkor Wat on our two-week adventure through Vietnam and Cambodia. Join our group of 30-45 year-olds and see all the gems of the immense complex by bike!
Where to get your entry ticket
You will need to purchase an Angkor Wat pass in Siem Reap before setting off, as they are only sold at the state-controlled Angkor Ticket Office (Angkor Enterprise). This is on Street 60, close to the intersection with Apsara Road. A multiday pass allows you to complete the circuit at your leisure and come back for a second or third day to see more. The best way to enjoy the temples is in leisurely trips of just a few hours, so going several times for shorter periods will give you time to assimilate your impressions and immerse yourself in the extraordinary landscapes.
Angkor Wat by bicycle and beyond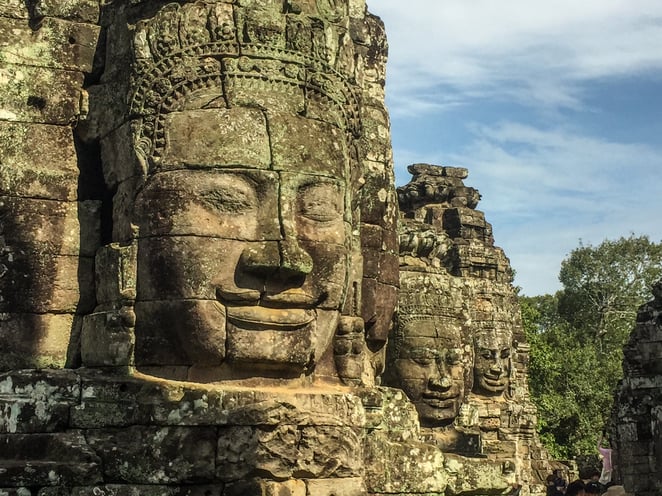 Angkor Wat is known for its many distinctive stone carvings
The dimensions of the main Angkor Wat complex alone are hard to comprehend, covering an area of over 500 acres. The broad rectangular outer moat is almost a mile long and a little under a mile wide. Approximately 300,000 workers and 6,000 elephants were reputedly used in the building work. Once a Hindu temple, it later came to be dedicated to Buddha.
There is surely no better way to visit than gliding imperiously down the 1558-foot length of the 31-foot wide avenue by bicycle, then passing the massive statue to Vishnu by the northern tower, hewn from a single block of sandstone.
You are likely to have your most memorable experiences away from the biggest crowds, for example at the 360-acre temple complex at historic Angkor Thom, or the eerily atmospheric Ta Prohm, used for the filming of "Tomb Raider," where tree roots engulf the ruins and sunlight filters down through the treetops. It is well worth scheduling some time to visit a few of the more out-of-the way, less well-known but nevertheless equally spectacular temples that are most easily accessed by bike.
Our trip to Angkor Wat includes exploration by bicycle! If you are between 30 and 45 years old and looking for a trip of a lifetime discovering the secrets of Vietnam and Cambodia across two weeks, join us on our next adventure!