The best Greek food is feel-good food.
To eat out well in a comfortable atmosphere, you can't go wrong by heading to a Greek restaurant, wherever you may be. The food is delicious and satisfying, and arguably some of the best in the world. If you have already developed a taste for Greek cuisine dining out locally, imagine how delicious it is in the actual country of its origin. And so that you're best prepared for your next trip, here's your guide on what to eat in Greece.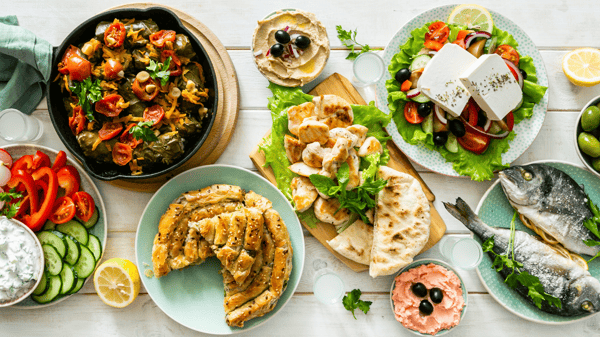 Greece is a gateway between the eastern and western Mediterranean. Typical Greek food is enriched by oriental and middle Eastern spices and incorporates some elements of Balkan cookery. Culinary traditions date back to the times of Alexander the Great, who extended Greek civilization all the way to India in 350 B.C.
One thing many Mediterranean cuisines have in common is the simplicity of their basic ingredients, which can be locally sourced and have traditionally been organically grown in rural households. The dry and sunny climate favors a number of vegetables that form the basis of some of the best Greek dishes. Home-cooked recipes often include combinations of olives, tomatoes, peppers, courgettes and eggplants. And the sparse summer pastures of rocky uplands suit sheep and goats, adding kid, lamb and delicious cheeses to traditional fare.
Add to that bacon and pork from the animals who were allowed to roam the majestic evergreen holly oak forests that still abound, nourished on acorns, for example in the Pholoe oak forest in the western part of the Peloponnese region. This is, incidentally, also still a great place for traditionally produced honey.
With so many mouthwatering, fresh ingredients on offer, it is not easy to narrow the choice down to a top ten. There may be more foods on the list in total, but who's counting? We are in the civilized land of large portions, top-ups and little extras on the side. So, sit back and relax with an ouzo and we will begin our culinary journey. Wine has been enjoyed in Greece since Neolithic times, when wild grapes were fermented, and domesticated vines have been cultivated since around 5,000 BC.
The anise-flavored aperitif ouzo is a variant of the 14th century drink, tsipouro, distilled by monks. Or you may opt for retsina, the renowned white wine with a characteristically resiny flavor. It is said that the Romans used to seal their amphorae with pine resin to prevent the wine from spoiling. The distinctive taste is still popular two thousand years later.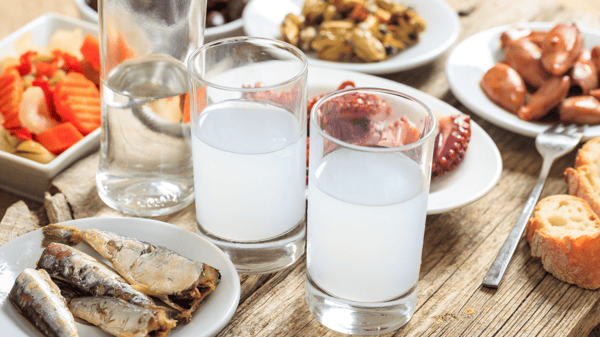 Greece is reputedly the cradle of western civilisation, so it will come as no surprise that even in the humblest of bars, ouzo is invariably served with a little side plate of food, known as mezedes, or mezes. This is often seafood or spicy cheese.
Simple is best: any meal can be accompanied by a seasonal Greek salad, horiatki, which is made with tomatoes, cucumber, green peppers, capers, lemon juice and oregano. And there is also a hot, pan-fried version for less balmy days.
1. Meze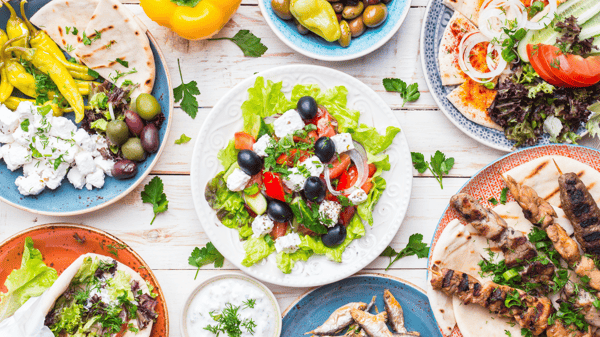 There is nothing more satisfying than starting your meal (or enjoying your ouzo) with a mixed platter of meze (appetizers), a couple of dips and some pita bread: Htipiti is a spicy red pepper dip, while melitzanosalata is a creamy, smoky concoction made of roasted eggplant with garlic and parsley.
Taramasalata is a spread made with cured fish roe ("tara" in Greek) mixed with a starchy base. The finest version is made with almonds, although bread and potatoes are just as lip-smackingly good. Kalamarakia tiganita are little bite-sized pieces of calamari in a tender, crispy batter. And puff pastry pasties with spinach and feta, known as spanakópita, are also a vegetarian-friendly option, great for taking to the beach for a snack.
Another favorite is fried zucchini balls, known as kolokithokeftedes. These are a tasty mix of feta cheese with a hint of fresh mint held together by egg.
You have almost certainly experienced stuffed vine leaves, or dolmades, outside Greece. While delicious, they may well have been the pickled version. When seasonal fresh vine leaves are used they are exquisite, containing long grain rice, optionally pine nuts, herbs such as thyme, fennel and oregano, and sometimes also mincemeat. Other local produce can also be used for the wrapping instead of vine leaves, such as tomatoes, peppers and courgettes.
2. Keftedes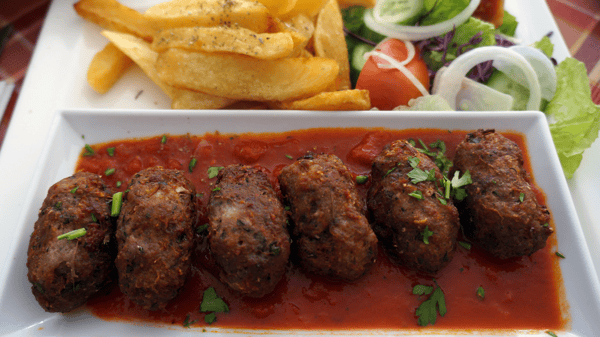 Keftedes are meatballs made of ground beef and lamb and are best served with creamy tzatziki sauce. They are cousins of the classic kofta or kefta present throughout the Middle East. Cuisine knows no borders and is equally tasty everywhere.
3. Saganaki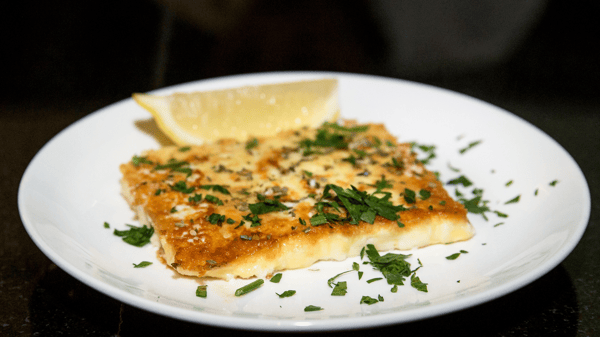 Saganaki means "small frying pan" in Greek and gives its name to pan-seared kefalotyri or other cheese. It has become popular to serve this dish flambéed, although the locals do not tend to eat it this way.
4. Souvlaki
Souvlaki means "small skewer" and gives its name to the popular meat brochettes, usually pork, which are often served with or inside pitta bread with chopped tomatoes and onions, topped by creamy tzatziki, that a ubiquitous yogurt-based dip or sauce containing garlic, salt and olive oil, dill and thyme.
5. Moussaka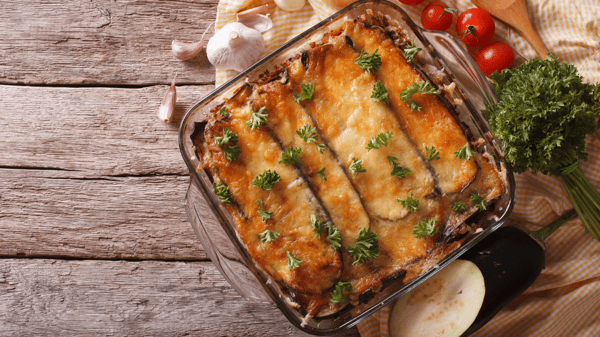 Moussaka is the ultimate comfort food and the Greek main course par excellence. It is a rich eggplant casserole made with ground beef or lamb, potatoes and a rich tomato sauce, rounded off with bechamel. A filling dish, it is nevertheless perfectly complemented by crusty bread or a green leaf salad.
Sitting by the azure sea sipping a crisp glass of retsina or ouzo might put you in the mood for some seafood, so why not drop in on one of the psarotavernes, or fish restaurants? Fresh fish is superlative in Greece, after all.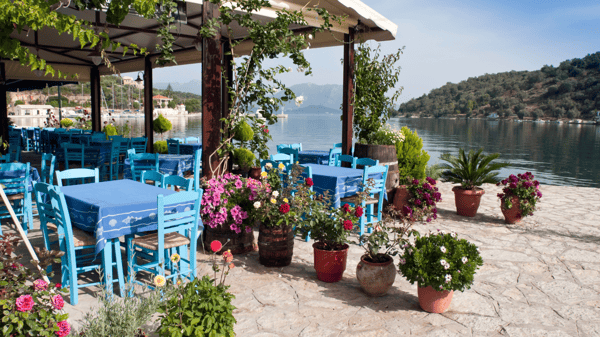 6. Charcoal-grilled octopus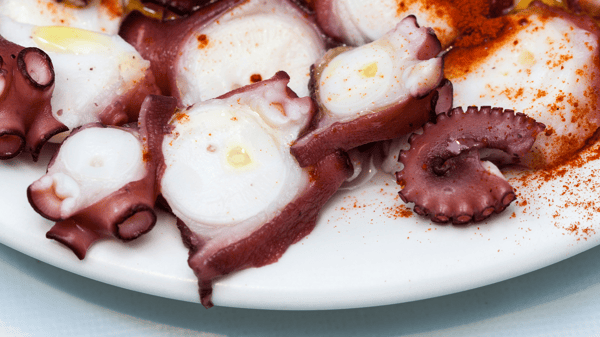 While on holiday in Greece, you may already have noticed the iconic octopuses hung out to dry like washing. This quintessentially Greek food is often caught fresh on the islands, as it has been since ancient times. Marinated and charcoal-grilled octopus is seasoned with lemon. You can experience some home-style cooking at taverns all over Greece, for example on the island of Santorini in the untouched Cyclades islands (which resembles Skopelos of Mama Mia fame).
7. Greek dressing, Iadolemono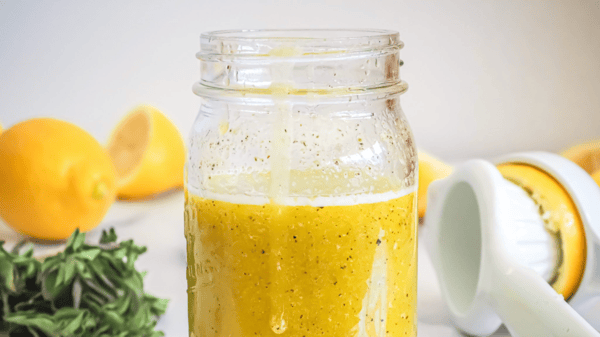 Source: cooklikeagreekblog.com
Fresh fish tends to be served with ladolemono, which is a lemon and olive oil dressing with garlic, oregano and ground black pepper. The smallish, pink barbouni is a mildly sweet fish and abounds in Greek taverns, where it has been prized since Roman times. And whitebait are known as marida. Sea bream, or fankrí, is a superior and substantial fish with a fine texture and tender, subtly meaty-tasting white flesh. It is not unlike the lavraki, or sea bass. Both are prepared on the grill or in the oven, stuffed with herbs, garlic and a drizzling of olive oil.
8. Gyros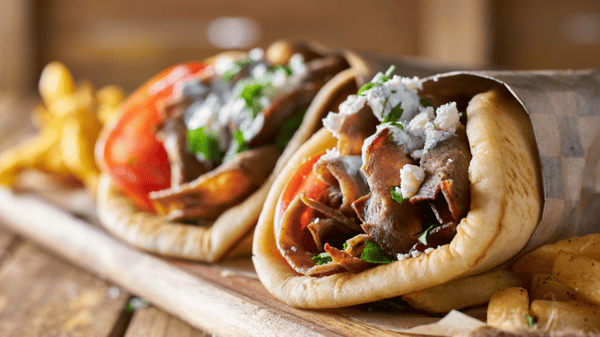 The gyros is a distinctly Greek variant of Turkish döner kebab. Both "gyro"and "döner" mean "turn". Although this resembles a kebab, it is a different animal, literally, as it usually contains pork (although also sometimes lamb or kid), and is served with tzatziki. This delicious and great value Greek wrap is available all over Greece.
9. Greek baklava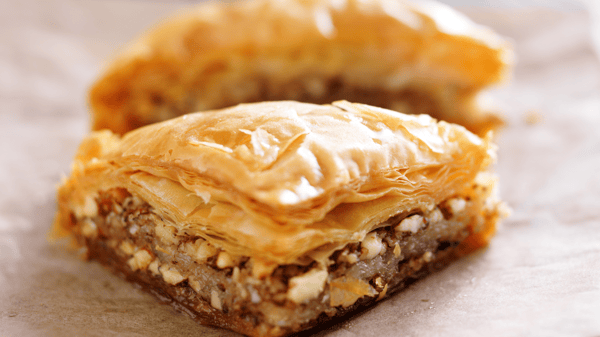 Anyone for dessert? How about some siropiasta, or syrupy pastries, such as Greek baklava with honey and walnuts?
A big table of many different dishes in a taverna, so you can try all. If you don't have a travel buddy, how about joining our group tour to the Greek islands, where you'll travel with other travellers in their 30s and 40s? We can hear your tummy rumbling already! Find out more about our tour of the Greek Islands here!