After joining our Lisbon & Sintra trip, Sally approached us and asked if she could write about her experience. And how could we say no? She had a fantastic time, and wanted to share with you what it's really like to get away with Indico Travels. Here she is, in her own words, describing her whirlwind adventure.
Earlier this month, I was lucky enough to participate in the 5-day Lisbon and Sintra Tour run by Indico Travels. Having travelled to Portugal only once before as a young child, whose only measures of a successful trip abroad were the number of sandcastles built and shells collected, I was delighted to be heading back there, nearly 30 years later, with only vague memories of the first time and plenty of new priorities! I promptly booked my flights, packed my bags, and gleefully activated my 'out of office' - the many delights of Portugal awaited.
A large portion of our trip was, of course, dedicated to discovering Lisbon itself, and this colourful city made short work of winning me over. Creamy pastéis de nata in neat rows behind counters, ornate tiles catching the sunlight, and the soft hum of traditional Fado music in the evening air - Portugal's capital certainly has a distinct allure. Under the expert direction of our local guide, Lina, we explored every corner of this picturesque city, discovering both the iconic landmarks and the hidden gems not found on the typical tourist trails. What struck me about Lisbon was the diversity of its offering. This truly is a city with everything: a rich and fascinating history which, as Lina aptly put, could even surpass Game of Thrones for drama; an array of eclectic neighbourhoods to explore, each brimming with its own identity; more postcard-worthy views than you could ever hope to look upon; and food and drink with the potential to ruin your taste buds for any other type of cuisine. The locals were friendly too, and endlessly patient as I stammered the three Portuguese words in my repertoire in predictable succession.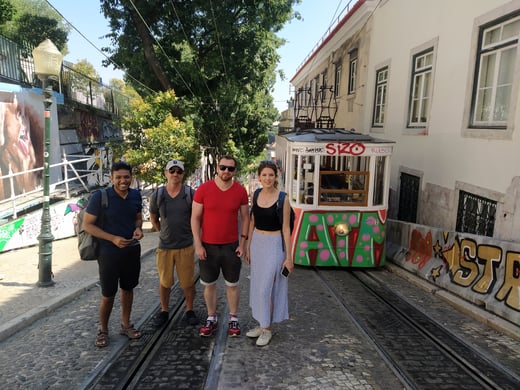 Discovering Lisbon with my fellow travellers - Source : Indico Travels
What was so special was that we experienced Lisbon in ways that were firmly outside the status quo. From being welcomed onto a local resident's roof terrace for a homecooked dinner on our first evening, complete with the most delicious sangria I've ever tasted, to stepping aboard a small sailboat on our final night to see the city from the water, bathed in the orange hues of sunset, our itinerary was carefully planned to give us a unique experience of the city. There was no box-ticking here, no formulaic order of events lifted straight from a guidebook and followed to the letter; Indico's version of Lisbon was something else entirely.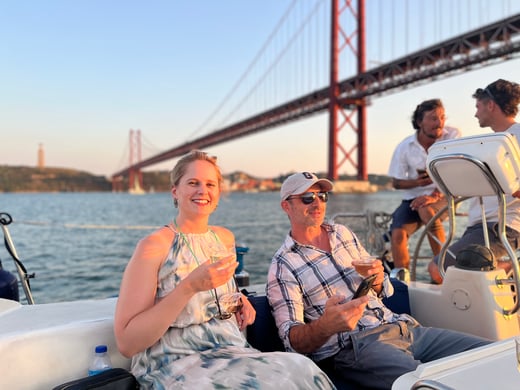 Sunset with friends - Source: Indico Travels
As you may well have gleaned, I liked Lisbon very much indeed. That said, I was still excited to wave 'tchau' to the hustle and bustle awhile to embark on a two-day sojourn away from the big city. I must admit, I had very little knowledge of Sintra ahead of our visit there and was stunned at how rapidly it shapeshifted in my mind from a dot on a map to somewhere I could happily envisage myself settling to live the Portuguese life, much like Lina! The entire region is reminiscent of something you'd see in a book of fairy tales, with its expansive green rolling hills punctuated by colourful monuments and palaces.
It would be nigh-on impossible to pick just one highlight from our escapade to Sintra – our experiences there were so diverse and each activity was worthwhile and memorable in its own right. Despite my reservations about whether Pena Palace could possibly live up to the hype and glowing reviews of friends and family, I quickly changed my tune once in its mighty presence and in a position to admire its impressive architecture, intricate details, and sweeping views over the surrounding countryside. For me, the added bonus was being able to step inside and explore a number of the palace's rooms, which were as unique as the brightly coloured exterior in which they're housed.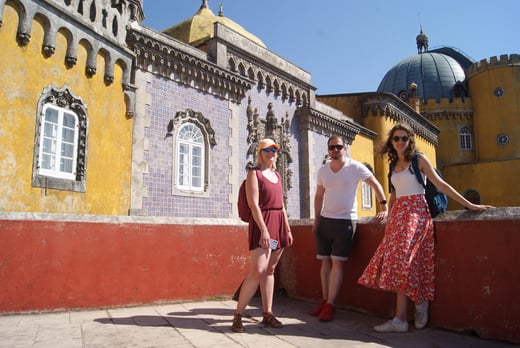 Enjoying the beauty of Pena Palace in Sintra - Source: Indico Travels
The second day gave us a fresh perspective on the region as our group hiked along Sintra's rugged coastline, before setting up shop at one of the area's picture-perfect beaches for a chill and recharge. Having contended with a particularly fierce sun on the hike, our group had a 'Baywatch' moment as we ran down to the shore and launched ourselves into the invigorating Atlantic waters. Top this off with wine tasting and tapas overlooking the Sintra hills? Go on then!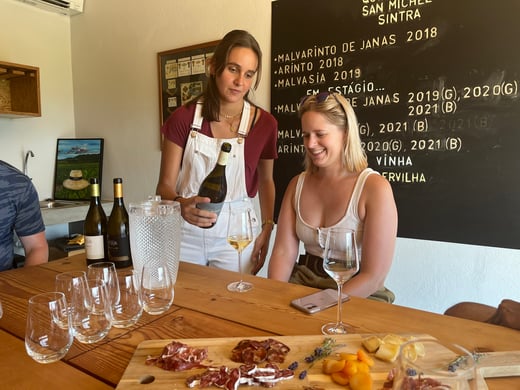 Good chats and wine tasting - Source: Indico Travels
Reflecting on the trip as a whole, ten days later, I still can't comprehend the amount we managed to fit into five days; this tour really does pack a Portuguese punch! We were completely immersed in the sights, sounds and smells of Portugal in a way that felt authentic, which can often be hard to achieve without the insider knowledge of a local guide. It also served as a welcome reminder of how much I value solo travel. I was one of five on this tour and, by the time we waved our goodbyes on the final day, our group had established its own hand signal, bonded over a shared love of the Simpsons (the early series, of course!) and developed a whole roster of inside jokes. When I think back on my experiences in Portugal, it will be the giggles with my fellow tour mates and the experience of discovering new parts of the world together that will sit front and centre in my mind.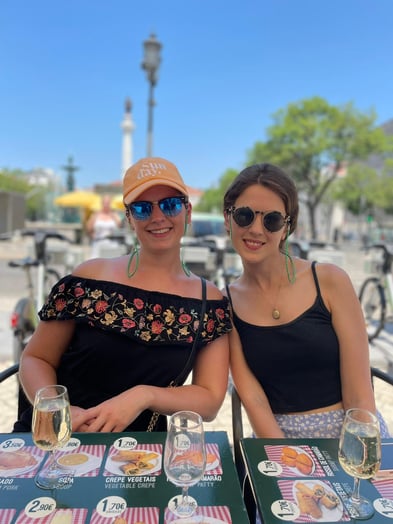 Discovering amazing places and making new friends - Source: Indico Travels
Finally, if I had to sum up, in one word, the Indico difference - what elevated this trip from great to unforgettable - that word would be 'Lina'. Our wonderful local guide immediately assumed the rather all-encompassing role of best friend/ responsible parent/ walking encyclopaedia/ agony aunt, and did so with kindness, patience and good humour in spades. Her knowledge of Portugal enriched our experience at every turn and I will forever be grateful to her. As far as I'm concerned, exploring Portugal Lina-style is the only way to do it.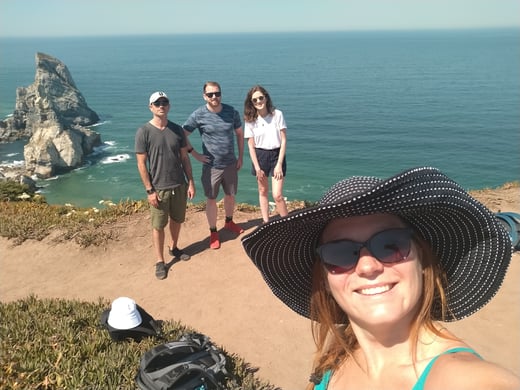 Our wonderful Lina showing us the beauties of Portugal - Source: Indico Travels
So if you're considering going on your own Indico adventure, whether to Portugal or somewhere else entirely, my advice would be this – do it! You will return home with a broader perspective on life, a bunch of new friends and memories to last a lifetime. I certainly did.
- Sally B, United Kingdom